Whole Foods Market (WFM) has been trading sideways for about a year as we can see in the daily chart. 

WFM Daily Chart 7/28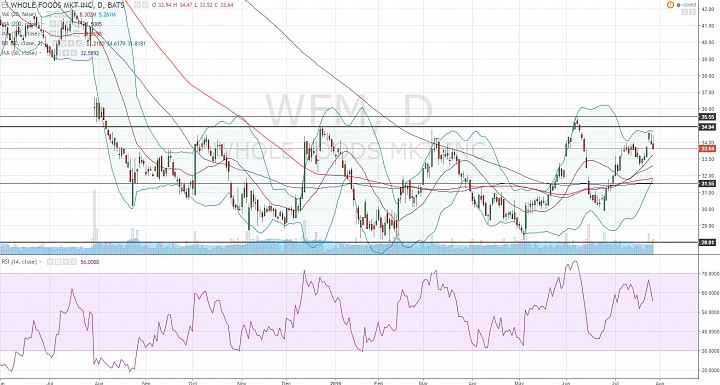 (click to enlarge)

Accumulation?
- Whole Foods Market (WFM) has been in a couple of strong bearish swings. See weekly chart below.
- The latest bearish swing pushed price essentially to 28. 
- We can see that price has been consolidating for about a year. 
- This consolidation could be indicative of "accumulation", which means that it could be a price bottom. 

Bullish clues:
- The latest bounce from 30.00 in June suggests that a rounded bottom could be materializing. 
- Looking at this year long range, we can see that there is a central pivot around 31.55. 
- Basically, if price can start holding above 31.55, there would be evidence of bullish bias. 
- In this scenario, the 35-35.55 resistance area would be threatened. 
- A break above 35.55 would open up the 40.00 handle or the pivot. (There is a support/resistance pivot area between 40 and 40.80. 
- Above this, the next target could be around 42.90, up to the 44.00 handle, where the 200-week simple moving average resides .

WFM Weekly Chart 7/28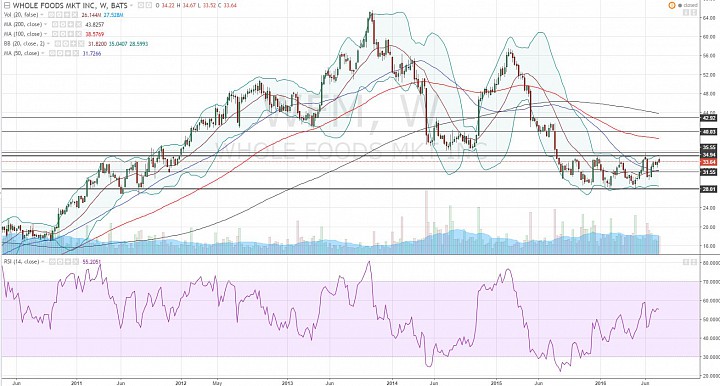 (click to enlarge)

Here's some recent news about WFMs potential entry into the meal kit market:
(TheStreet.com) With its sales under siege from new competitors in organics and consumers opting for convenience over a hike to a store, Whole Foods (WFM) may be on the verge of entering the booming meal kit market.
"We have huge interest [in meal kits]," Whole Foods co-CEO Walter Robb told analysts on a call Wednesday evening. Two other executives moved quickly to chime in on the topic, adding that "there's a lot of people in the Willy Wonka laboratory working on this thing" and that it has been "tasting a lot of food." Concluded Robb, "We will say that we are committed to this category -- we think we have a good strategy for it, and it will be revealed."
Whole Foods declined to share more specifics on what its meal kit service would entail or when it would launch. The initiative is being called its "meal solution spectrum." Tien Ho, Whole Foods global vice president of culinary and hospitality, is leading the development of the recipes that would be included in the meal kits.
Meal kit services -- where consumers pay a monthly subscription fee to have meals delivered directly to their homes -- have burst onto the scene in recent years as consumers seek out ways to save time and as they show an interest in food culture. The market is dominated by Blue Apron and Plated, but according to Technomic it's now comprised of more than 170 players. Sales for meal kit companies topped $1 billion in 2015, said Technomic, and could grow into a multi-billion dollar market over the next five years.

(Full Article at TheStreet.com)