Facebook, Inc. FB unveiled plans to redevelop its former Silicon Valley tech campus in Menlo Park, CA, which will be called "Willow Campus", per the company's blog posted on Jul 7.
In Feb 2015, Prologis Inc.'s Menlo Science & Technology Park was acquired by Facebook for approximately $400 million, bringing its total holdings in the neighborhood to nearly 200 acres.
In Mar 2015, the company officially moved into the 430,000-square-foot, Frank Gehry-designed Menlo Park building, known as MPK20, from its existing headquarters at 1 Hacker Way on the other side of California's Highway 84.
Facebook, Inc. Price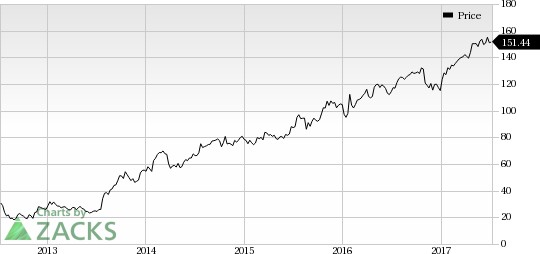 Reportedly, the new facility to be situated behind Menlo Park headquarters will be spread out across 125,000 square feet of retail space that will include a grocery store, and pharmacy along with 1,500 housing units, more than 200 of which will be rented at "below market rates". Facebook missions "to create a neighborhood center that provides long-needed community services".
According to the company, "Willow Campus will be an opportunity to catalyze regional transit investment by providing planned density sufficient to support new...
More