Trade with confidence. Are you a professional trader? Be the first to get the alert with Benzinga Pro's real-time newsfeed and audio squawk and never miss an opportunity again.
Don't miss the chance to try it FREE today.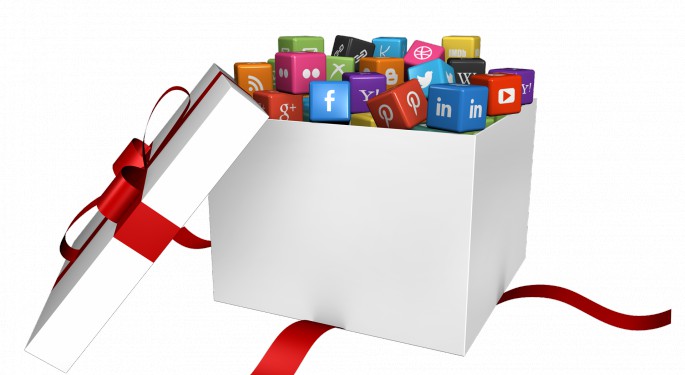 Two of the so-called FANG stocks offered up disappointing quarterly results last week.
The other two FANG stocks are on deck to share their latest results this week.
Wall Street analysts continue to look for strong earnings growth from both of them.
The so-called FANG stocks were the momentum darlings of 2015, but they have not started out 2016 with bang, at least are far as their earnings are concerned. Last week, Alphabet Inc GOOG 5.32% GOOGL 5.41% – still better known as Google – missed on the top and bottom lines in its report, while Netflix, Inc. NFLX 0.97% offered up soft sales and disappointing guidance in its report.
The other two FANG stocks – Amazon.com, Inc. AMZN 1.66% and Facebook Inc FB 2.54% – are both scheduled to post their latest quarterly results this week, and Wall Street analysts still are looking for strong year-on-year growth on the bottom lines from both of them, judging by the consensus forecasts.
Below is a quick look at what analysts expect from these two reports, followed by a glance at other prominent earnings reports due out this week.
Amazon
When this e-commerce and cloud giant shares its first-quarter results late Thursday, the consensus forecast of Estimize calls for a profit of $0.46 per share. That compares to a net loss of $0.12 per share in the same period last year. It is also higher than Wall Street's estimate of $0.58 per share, which is unchanged in the past 30 days. However, Amazon fell well short of earnings expectations back in the fourth quarter.
Revenue for the three months that ended in March will be $28.02 billion, or up more than 23 percent year over year, if the 206 Estimize survey respondents are correct. Wall Street analysts are looking for $27.99 billion. Both estimates are above the midpoint of the top-line guidance from Amazon
Facebook
Wall Street's first-quarter forecast for the social media giant calls for earnings to have risen 20 cents from the year-ago period to $0.62 per share. That estimate is the same as it was 60 days ago, although the 347 Estimize respondents predict that per-share earnings will come in at $0.66. Note that both Wall Street and Estimize have underestimated actual earnings numbers in the past few quarters.
Revenue also exceeded consensus estimates back in the fourth quarter, and now Estimize respondents are looking for $5.31 billion, while the Wall Street forecast pegs it at $5.25 billion. That would be more than 48 percent higher year over year. Look for Facebook's report after Wednesday's closing bell.
And Others
Of course these two companies are hardly alone, as we are in the heart of earnings reporting season. Other companies Wall Street analysts expect to show at least some earnings growth when they report this week include AbbVie, Altria, Barrick Gold, Cardinal Health, Coach, Express Scripts, Fiat Chrysler, Ford, Goodyear, JetBlue Airways, Sirius XM, Texas Instruments, 3M, Time Warner Cable and Xerox.
On the other hand, the earnings at Aetna, Apple, Boeing, Capital One, Colgate-Palmolive, Comcast, Corning, DuPont, eBay, Eli Lilly, Exxon Mobil, Halliburton, Lockheed Martin, Mondelez, Phillips 66, Procter & Gamble, SanDisk, Seagate Technology, SUPERVALU, Tyco International, United Technologies and Viacom will be smaller than a year ago, according to the consensus Wall Street forecasts.
Net losses are in the cards for Chevron, ConocoPhillips, Freeport-McMoRan, Groupon and U.S. Steel, if analyst expectations are accurate.
In the following week, the first in May, quarterly reports are expected from Activision Blizzard, ADM, Alibaba, Anheuser-Busch, Avon Products, Chesapeake Energy, Duke Energy, Kellogg, Marriott, MetLife, Pfizer, Tesla Motors, Time Warner, Whole Foods and many more.
Disclosure: At the time of this writing, the author had no position in the mentioned equities.
© 2016 Benzinga.com. Benzinga does not provide investment advice. All rights reserved.