European natural gas prices are reversing their biggest slump in five years as concern mounts that tension between Russia and Ukraine will again disrupt flows to the region.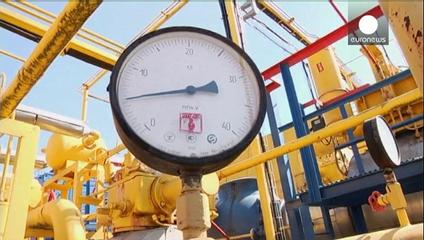 Gas for next-month delivery in the U.K. rallied 17 percent over the past six weeks as Ukraine said it may ban OAO Gazprom,Europe's biggest supplier, from shipping the fuel across its territory because of Russia's support of separatists. The Moscow-based company, which meets 15 percent of European gas demand through Soviet-era pipelines across Ukraine, halted supplies to its neighbor on June 16 in a debt and price dispute.
Gas storage in Ukraine is less than half full and the nation began this month to limit domestic use to conserve fuel. U.K. prices, the regional benchmark, fell to their lowest since 2010 last month after a mild winter left storage sites across the 28-nation European Union at their fullest for this time of year since 2008. Wholesale costs next quarter will be 11 percent higher than what companies are paying for that period now, according to a forecast by Societe Generale SA in Paris.
"The continued threat of gas transit interruption is putting upside risk into gas prices," Nick Eagle, director of sales and trading at Clean Energy Trading Ltd. in London, said yesterday by e-mail. "While there's no denying European gas storage levels are in a very healthy position, there would be significantly more concern if any disruption was to occur during the winter period."
Seasonal Low
U.K. gas for next-month delivery gained 6.05 pence since falling to a four-year low on July 8 to 41.3 pence a therm ($6.87 a million British thermal units) at 5:06 p.m. in London, according to broker data compiled by Bloomberg. The front-month price is the lowest for this time of year since 2010.
Gas flows to Europe were interrupted for 13 days during freezing weather in January 2009 in a similar dispute between Russia and Ukraine. Gas for same-day delivery surged as much as 27 percent the day before the stoppage.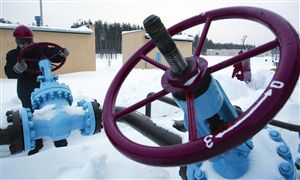 In Ukraine, Kiev's biggest utility restricted Eka Beradze-Fokina's hot water to save gas, leaving her to use an electric immersion coil and a pot to prepare her 3-month-old son's bath. The 35-year-old lives in one of 9,166 residential buildings affected after PAT Kyivenergo, which supplies 75 percent of the capital's heating and all its power, cut hot water to 59 percent of its customers.
The limits may last through the end of September, Kiev Mayor Vitali Klitschko said Aug. 4.
Heating Water
"It's good it's summer now and a lot of people are on vacation," said Beradze-Fokina, a director at OAO Interregional Stock Union (MFS) who lives on the 19th floor of a 145-apartment building. "When they all return to work and it becomes cold, there will be a lot of pressure on electricity" as people try to heat water.
Ukraine consumes 34 billion cubic meters of gas in the heating season and produces about 10 billion, estimates Alexey Grivach, deputy director of Russia's National Energy Security Fund. The nation will have less than 17 billion cubic meters in storage at the start of winter from about 15.4 billion, Thierry Bros, an analyst at Societe Generale, said Aug. 7.
Ukraine's parliament approved Aug. 14 a bill allowing it to impose sanctions on 65 Russian companies and 172 individuals for supporting separatists in east Ukraine. More than 2,000 people have been killed in the conflict since the middle of April, according to the United Nations.
European Revenue
Gas flows to Europe probably won't be disrupted as Gazprom depends on revenue from the sales and Ukraine won't tap transit fuel as it seeks closer ties to the EU, said Daragh McDowell, a senior analyst at risk consultants Maplecroft in Bath, England. Former President Viktor Yanukovych was ousted in February after refusing to sign a deal to strengthen ties with Europe.
"Gazprom still needs to sell its gas to Europe and Ukraine needs to be on the good side of the European Union," McDowell said by phone yesterday.
While Europe may be able to cover its gas needs under normal winter weather by using inventories and importing more liquefied fuel and pipeline gas from Norway, that would deplete storage to 2012-13 levels, Citigroup Inc. said in an Aug. 11 report. EU storages were 21 percent full on April 13, 2013, the lowest for that time of year since Gas Infrastructure Europe, a lobby group in Brussels, started publishing the data in 2007.
Central Europe will probably be the most affected region if supplies are cut, Trevor Sikorski, head of gas, coal and carbon at London-based consultants Energy Aspects Ltd., said Aug. 8 by phone. In 2009, Balkan nations were forced to use emergency supplies, ration gas, employ backup generators and cut power usage.
Russian Dependence
Latvia and Estonia are completely dependent on Russian gas, while Slovakia, Hungary and Bulgariaget 80 to 90 percent of their fuel from Russia.
Ukraine owes Gazprom $5.3 billion for past deliveries, according to the Russian gas exporter. Naftogaz, Ukraine's national supplier, refused to pay after Gazprom raised costs in April by 81 percent to $485 per 1,000 cubic meters.
U.K. gas will average 64 pence a therm in the fourth quarter, forecasts Societe Generale. The contract for that period closed at 57.9 pence yesterday. The risk-premium built into gas prices in the U.K. is about 5 pence to 7 pence a therm, Pira Energy Group said in a report e-mailed today.
"I'm still more bullish than the curve," Paris-based Bros said by e-mail Aug. 7. "Ukraine has a long history of not paying for its gas bill. This will end badly soon."
Ukraine's Winter
Ukraine can cope without Russian gas through winter if it imports enough fuel from Europe and cuts use, Andriy Kobolyev, Naftogaz's chief executive officer, said in an Aug. 12 interview with Bloomberg Television.
The country can get as much as 15 billion cubic meters a year of gas from the EU, according to Prime Minister Arseniy Yatsenyuk. RWE AG, Germany's second-biggest utility, started delivering gas to Ukraine in April through Poland. Slovakia will start flows to Ukraine next month, the grid operator said.
Europe can mitigate disruptions by diverting gas through the Yamal pipeline from Russia via Belarus and Poland and Nord Stream, a link from Russia to Germany, according to National Grid Plc. About 90 million cubic meters a day could be rerouted, leaving the EU short of 117 million cubic meters in case of a full cut, the U.K.'s grid operator said July 31.
Ukraine will allow European utilities to buy Russian gas at its eastern border and sign new transit contracts with Naftogaz to bring it through its pipes even if a ban on Russian gas is imposed, Kobolyev said.
Possible Deal
Such renegotiations can't be done in the "short term," EU Energy Commissioner Guenther Oettinger said Aug. 12 in a statement. The bloc, which has been trying to broker a deal between Gazprom and Naftogaz since May, is working to set up trilateral talks in "early autumn," he said, without providing dates.
"Ukraine respects European buyers' long-term Russian natural gas contracts and understands that amendments require time and careful negotiation," Naftogaz said Aug. 13. "The possibility of a crisis similar to 2009, when Gazprom terminated gas transit to Europe, cannot be ignored."
Russian President Vladimir Putin banned imports of some food items from the EU and other nations on Aug. 6 in response to sanctions against his country.
Putin "doesn't seem to be in a hurry to end the conflict and nor does Ukraine," Ole Hansen, head of commodity strategy at Saxo Bank A/S in Copenhagen, said by e-mail yesterday. "We could easily see this confrontation drag on into the winter."