Investors often sell their winners too soon and hold onto their losers for too long. The reason is simple: They're afraid that their winners will give up their gains, and hopeful that their losers will bounce back. It can be tough to figure out when to cut your losses on a stock, but these 10 questions might help you make up your mind.
1. Has the business fundamentally changed?
As industry trends shift, many companies' strengths become weaknesses. For example, BlackBerry (NASDAQ:BBRY) missed a critical technological shift when iPhones and Android devices popularized touchscreen smartphones. That blunder caused its shares to fall nearly 95% over the past decade. If your company is facing a similar paradigm shift, it might be time to rethink your investment thesis.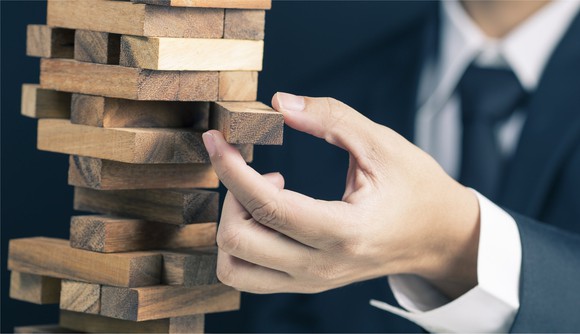 2. Does the company dismiss its problems?
The reason BlackBerry crashed was that it repeatedly dismissed iPhones and Android devices as viable threats to its smartphone business. Unfortunately for BlackBerry, iOS and Android devices became more secure and widely accepted by enterprise customers -- which caused BlackBerry's market share to drop to nearly 0%. If your company repeatedly dismisses clear threats while touting brand strength or customer loyalty, it may be time to sell the stock.
3. Are revenue and profits headed in the wrong direction?
If a company is still growing its revenue, margins, profits, and cash flows in the face of tough competition, it can probably withstand future headwinds. But if all the numbers move in the wrong direction for several straight quarters, it might be time to sell the stock.
4. Is the company overvalued compared to industry peers?
Another simple way to see if a stock is "ripe" is to check its P/E (price-to-earnings) ratio. For higher-growth stocks, the P/E ratio should be comparable to its annual earnings growth rate. For mature stocks, the P/E ratio should generally be...
More