Over the past three months, there's been no shortage of attempts to explain the wild gyrations in China's equity markets by way of analogy and/or colorful metaphors and the same goes for efforts to analyze the country's decelerating economy.
Take Horseman Global for instance, who, in a moment of nostalgia for classic 80s cinema, said the following earlier this month: 
For bears, much like the alien in Predator, the Chinese government has continually used special abilities that were previously unknown. In my experience, in the mind of the international investment community, small devaluations tend to encourage even more capital outflow, which in turn leads to even larger devaluations. Or to borrow a line from Predator, "If it bleeds, we can kill it".
Now obviously, topping that is no small feat, but Jim Chanos took a stab at it during a panel discussion on China in New York on Tuesday. 
"It's like a pig on LSD. You don't know which way it's going to run," Chanos said of China's stock market, which of course is susceptible to huge intraday swings depending on what mood the PBoC's plunge protection team happens to be in. 
But on a more serious note, Chanos doesn't think Chinese equities are the way to go when betting against the country as it attempts to mark a difficult transition from an investment-led economy to a model based on consumption and services and as Beijing grapples with debt legacy stemming from efforts to boost growth in the wake of the financial crisis. Here's more from Bloomberg:
China is on a path similar to the one that preceded Japan's lost decade in the 1990s as the country's debt level grows twice as fast as its economy, according to Jim Chanos, the hedge fund manager who predicted the 2001 collapse of Enron Corp.

 

"We have an economy addicted to credit," Chanos, founder of Kynikos Associates LP, said during a panel discussion on China in New York Tuesday. While the country doesn't appear to be facing an "imminent collapse," it is on a trajectory similar to the one Japan was on before its asset-price collapse in 1991 "but on steroids," he said.

 

Chinese annual loan growth has slowed to about 15 percent from more than 30 percent in 2009, that's still double the pace of expansion in gross domestic product. Total household and corporate debt surged to 207 percent of GDP in June, up from 125 percent at the end of 2008 when China embarked on a borrowing binge to stimulate the economy, according to data compiled by Bloomberg.

 

Japan's total debt swelled to 176 percent of GDP in 1990 from 127 percent in 1980, according to JPMorgan Chase & Co. The burst of the housing and stock market bubble since then led to anemic economic growth in the following years, a period commonly referred to as a lost decade.

 

"It takes time to sort out" the debt overhang, said Chanos. The investor has forecast since at least February 2010 that the country's property market will slump, saying that China is Dubai times a thousand and on a "treadmill to hell" because of its reliance on real estate for growth.

 

Even though Chanos is bearish on the outlook for China, he said he isn't shorting the country's stocks because the equity market isn't a reliable gauge of economic activity. Instead, the slowdown will claim victims in global commodity and mining companies, especially liquefied natural gas producers in Asia, he said. Chanos said earlier this month that he's betting against Cheniere Energy Inc., a U.S. natural-gas exporter.
Of course, as we've noted on numerous occasions when discussing China's massive debt load (and we're talking about so-called "augmented" debt here which takes into account off-balance sheet LGVF financing as well as corporate debt), deleveraging is complicated by Beijing's efforts to keep economic growth from decelerating further.
Here's a look at the problem via the IMF: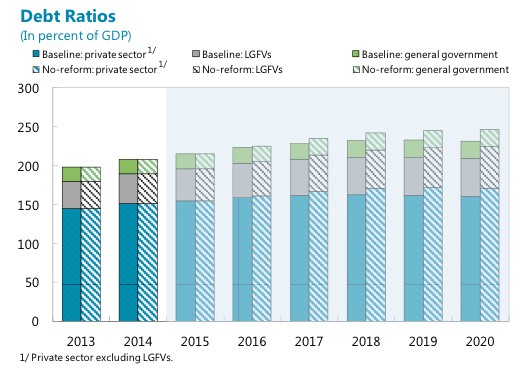 Efforts to effectively deleverage and re-leverage all at once have led to the adoption of a kind of schizophrenic approach to managing markets and the economy as China desperately tries to convince the world that somehow it can manage multiple competing goals if only Beijing can find the right mix of policies. As recent developments in both FX and equity markets have made abundantly clear, this simply isn't possible and Beijing is rapidly losing credibility. We close with what Chanos said last month with regard to China's mulitple spinning plates:
"People are beginning to realize the Chinese government is not omnipotent and omniscient. In fact, like many of us, sometimes they don't have a clue."