DAILY PRICESToday's Gold Prices: USD 1,125.50, EUR 998.23 and GBP 730.99  per ounce
Yesterday's Gold Prices:  USD 1128.50, EUR 999.38 and GBP 728.91 per ounce.
(LBMA AM)
- Einstein, Physics, Gold and The Formula To End Economic Decay
- Demand Surge and Shortages of Bullion as Stocks Fall Sharply
- New 'Bullion Coin and Bar Premiums and Availability' - See Table
- Gold Outperforms All Assets In August - See Table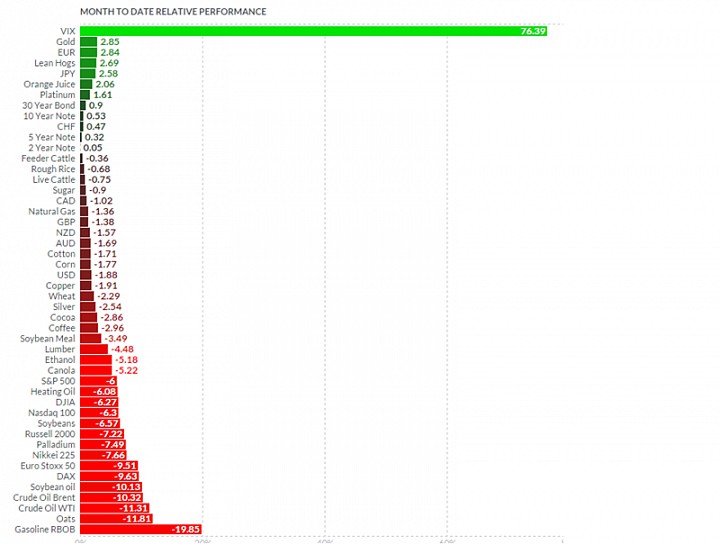 Gold Outperforms All Assets In August
As month end approaches, gold has outperformed the vast majority of major assets (see table above) and is nearly 3% higher in August while leading stock indices have fallen by more than 6% and some crashed by 20% this week prior to the recent bounce.
We are extremely busy and this was one of the busiest weeks of the year so far - both in terms of number of transactions and total volume in dollar sales terms. This increase in physical demand should lead to higher prices in the coming weeks. 
This has been the case for bullion refiners, mints and dealers all of whom say very high demand for physical this week. Indeed there are again supply bottlenecks and shortages of many popular bullion coins and bars - especially silver bullion coins and bars (see table below).
Read more on GoldCore.com
Important News
Gold Up in Asia Trade – The Wall Street Journal
Gold Pares Biggest Weekly Drop in Month on U.S. Growth Concern – Bloomberg
European Stocks Decline, Erasing Gains in Roller Coaster Week – Bloomberg
Oil prices extend gains after biggest daily climb in six years – Reuters
Federal Reserve Increasing Scrutiny of Bank Payment Systems – The Wall Street Journal
Important Analysis

Reflation threat to bonds as money supply catches fire in Europe – The Telegraph
Optimism for Africa despite threat from China downturn – The Telegraph
This Weird Story Suggests Gold and Miners Are Near a Bottom – Casey Research
Gold and Silver Have Never Been This Cheap – GoldSeek
Expect markets to fall 20 to 40 percent: Marc Faber – Yahoo Finance
More breaking News & Commentary from GoldCore.com