CSRA Inc. CSRA recently announced that it has been chosen to provide cloud computing services to the Navy's Research and Development Establishment (NR&DE). This blanket purchase agreement signed with the Department of Navy (DON) is potentially worth $34.6 million and also includes two one-year options.
Per the agreement, CSRA will serve the Navy's Science and Technology (S&T) community with cloud migration services to Amazon's AMZN AWS and Microsoft's MSFT Azure. The relevant cloud engineering and maintenance services will also be provided by CSRA. Notably, CSRA will be the industry's first company to serve the U.S. Navy with these facilities.
This set up is anticipated to assist the Navy in accelerated development and testing of new-age technologies with the environment becoming more secure and cost effective due to the usage of cloud platforms. As a result, the integration of the technical enhancements into the worldwide defense forces is also expected to speed up.
We believe this new contract win will be a positive that will boost the company's top line going forward and boost shares. The stock has gained 2.3% year to date, underperforming the 26.9% rally of the industry it belongs to.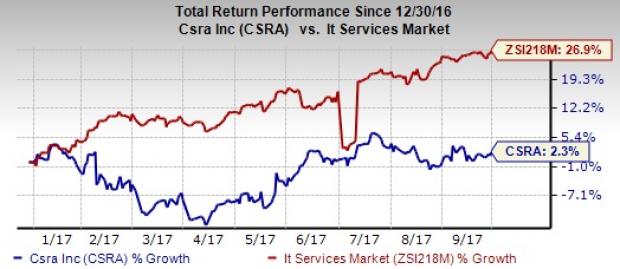 CSRA's Growth Prospects
The company's deep domain knowledge and expertise in next-generation IT services is aiding it to win new contracts on a regular basis. In early September, CSRA via its 79% shareholding joint venture Eagle Alliance won a whopping $2.4 billion contract from the Department of Defense. The performance period of the contract is around 10 years and CSRA will be responsible for enterprise related information technology (IT) services.
CSRA Inc. Revenue (TTM)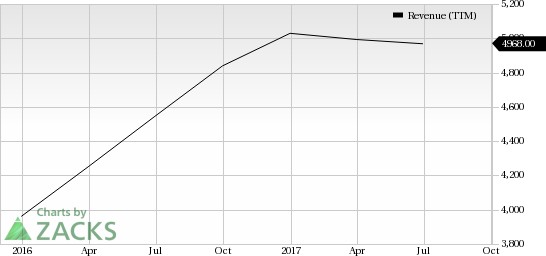 Recently the company also won a $115 million contract from the U.S. Environmental Protection Agency (EPA). While reporting fiscal first-quarter 2018 results, CSRA stated that its new business win rate has been 39% over the trailing 12 months. Re-compete win rate in the last year was 80%.
Moreover, the company's strong base of partners that include the likes of ServiceNow (NOW) Microsoft and Red Hat among others is a positive. The acquisition of NES in July 2017 is also expected to be a tailwind for CSRA's top-line going forward.
Zacks Rank and Stock to Consider
CSRA currently has a Zacks Rank #3 (Hold).
A better-ranked stock in the broader technology space is Applied Materials, Inc. AMAT, sporting a Zacks Rank #1 (Strong Buy). You can see the complete list of today's Zacks #1 (Strong Buy) Rank stocks here.
The long-term earnings growth rate for Applied Materials is projected to be 17.1%.
Today's Stocks from Zacks' Hottest Strategies
It's hard to believe, even for us at Zacks. But while the market gained +18.8% from 2016 - Q1 2017, our top stock-picking screens have returned +157.0%, +128.0%, +97.8%, +94.7%, and +90.2% respectively.
And this outperformance has not just been a recent phenomenon. Over the years it has been remarkably consistent. From 2000 - Q1 2017, the composite yearly average gain for these strategies has beaten the market more than 11X over. Maybe even more remarkable is the fact that we're willing to share their latest stocks with you without cost or obligation.
Want the latest recommendations from Zacks Investment Research? Today, you can download 7 Best Stocks for the Next 30 Days.
Click to get this free report
Amazon.com, Inc. (AMZN): Free Stock Analysis Report
CSRA Inc. (CSRA): Free Stock Analysis Report
Microsoft Corporation (MSFT): Free Stock Analysis Report
Applied Materials, Inc. (AMAT): Free Stock Analysis Report
To read this article on Zacks.com click here.
Zacks Investment Research