AT40 = 48.1% of stocks are trading above their respective 40-day moving averages (DMAs)
AT200 = 55.4% of stocks are trading above their respective 200DMAs
VIX = 12.5 (volatility index)
Short-term Trading Call: neutral
Commentary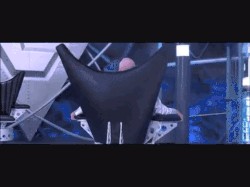 Diabolically, the stock market has put my head on the proverbial swivel.
I earlier noted how the NASDAQ in particular has bounced up and down like a yo-yo from day-to-day with a downward bias but to start this week I found comfort in a bullish rotation out of tech stocks into the rest of the stock market. Conditions deteriorated so much from there that today I downgraded my short-term trading call from cautiously bullish to neutral.
On Wednesday, tech stocks stuck to the yo-yo theme. The NASDAQ gapped away from its lower-Bollinger Band (BB) and returned to resistance at its 50-day moving average (DMA). The PowerShares QQQ ETF (QQQ) also traversed the entire range of its lower-BBs. Unfortunately, "conservation of energy" applied itself this time by sucking money out the rest of the market. AT40 (T2108), the percentage of stocks trading above their respective 40DMAs, lost all its gains from the previous trading day before bouncing off that low slightly. It was a move abrupt enough and deep enough to raise my alarm bells. As a reminder, when AT40 fades away from the overbought threshold (over 70%), I tend to get relatively more bearish on the stock market: I treat such a move as indicative of buyer's exhaustion. In this case, I waited for confirmation, and Thursday delivered big-time confirmation!
During trading today (Thursday, July 6, 2017) AT40 essentially plunged. My favorite technical indicator lost another 11 percentage points and closed at 48.1%. This move was indicative of a poor day on the market. The NASDAQ lost 1.0% and closed at a new 7-week low. QQQ fared slightly better with a 0.9% loss and bounced from its low to avoid closing below Monday's low.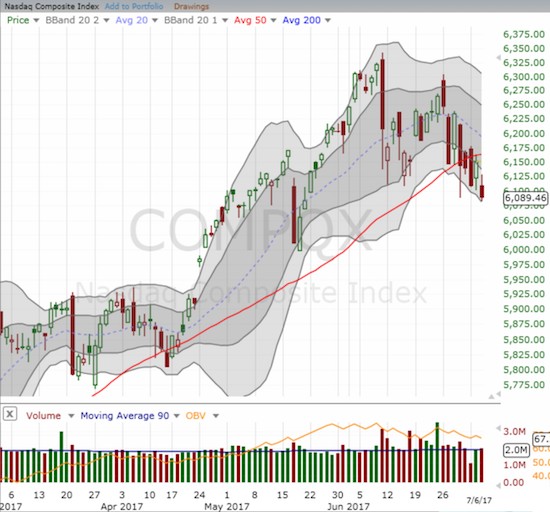 This time, the money running from tech did NOT help the rest of the market. Indices and ETFs took hits, some quite heavy. The Financial Select Sector SPDR ETF (XLF) lost 0.7%. The Energy Select Sector SPDR ETF (XLE) lost 1.1%. The SPDR S&P Retail ETF (XRT) lost 2.2%. REITs were slammed with the Dow Jones Equity All REIT Total losing 1.8%. The iShares Russell 2000 ETF (IWM) lost 1.7%. The S&P 500 (SPY) managed to eke out a small gain on Wednesday but luck ran out today as selling pressure broke down the index. The S&P 500 lost 0.9% and managed to close below its 50DMA for the first time since mid-May.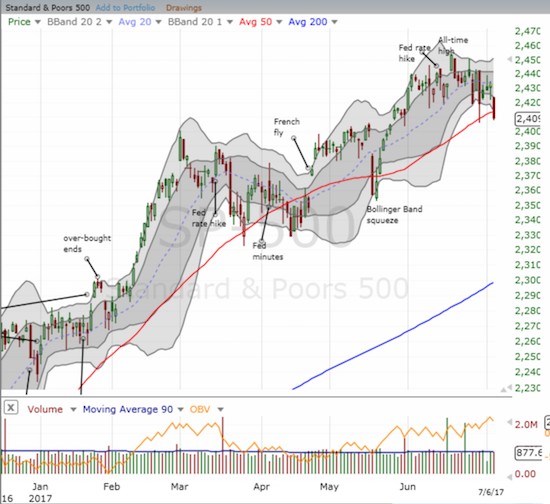 With selling pressure felt throughout the market, the volatility index, the VIX, further confirmed the ominous mood by jumping 13.3%. The VIX now looks ready to make another run at the all-important 15.35 pivot.
With another jobs report coming on Friday, I am avoiding over-interpreting this action. Even after seeing the market's reaction to the jobs report, I will have to stay wary with earnings season soon to start. However, all else being equal, I have quickly transitioned my sentiment along with AT40's sharp reversal in fortunes. Note well that sudden and deep drops in AT40 from any level can act as a short-term oversold trading signal, aka "quasi-oversold."
Trading action
Despite my mood shift, I did not take any direct action to get incrementally more bearish. In fact, I quickly locked in profits on my latest tranche of put options on Apple (AAPL). I also sold my put options on Netflix (NFLX). Again, I interpret my consistent success with AAPL put options as indicative of an increasingly bearish bias in big cap tech. I faded NFLX as an extension of that observation.
My call options on ProShares Ultra VIX Short-Term Futures (UVXY) opened with enough green to trade back to flat. I held them looking for more green, but...
More