Last week, Chipotle Mexican Grill (NYSE:CMG) laid out its preliminary guidance for 2017, and explained the initiatives it is taking to recover from the massive sales declines triggered by last year's E. coli outbreak.
Investors weren't impressed. Following the earnings report, Chipotle stock fell to its lowest level since 2013. Indeed, the stock has lost more than half of its value since peaking a little more than a year ago: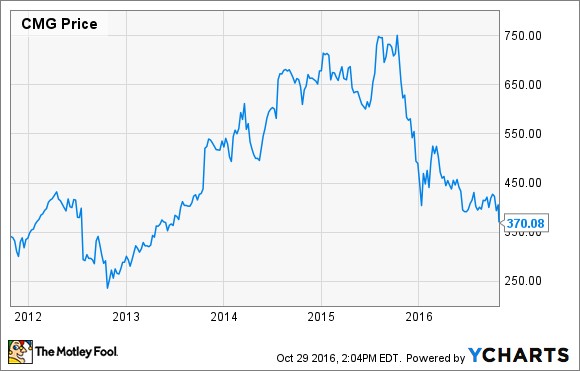 This demonstrates the extent to which investors mistrust Chipotle's management. The most recent stock price decline implies that Mr. Market doubts not only Chipotle's ability to hit its 2017 targets, but also its prospects of returning to historical levels of profitability at any point in the future.
Near-term sales growth initiatives
In Q3, Chipotle once again suffered a significant year-over-year comp-sales decline, leading to sharp margin erosion. Comparable restaurant sales fell 21.9% year over year, while earnings per share plunged to $0.27 from $4.59 a year earlier. Excluding an impairment charge and a revenue deferral associated with Chipotle's summer rewards program, EPS would have been $0.79.
On Chipotle's earnings call, management discussed several initiatives designed to drive a sales recovery.
First, Chipotle is making targeted additions to its menu. It rolled out a new chorizo menu option nationwide earlier this month; chorizo has proven popular and is enticing some of Chipotle's most loyal customers to visit more frequently. Chipotle also plans to add a dessert item to its menu in the near future.
Second, Chipotle is implementing a variety of new digital capabilities; these include an enhanced mobile website and other tools to simplify online ordering, and speed up throughput to reduce wait times.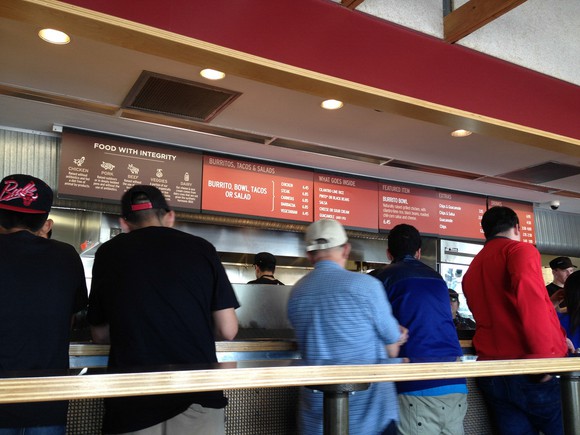 Third, Chipotle is testing TV advertising...
More