Transocean, along with the entire offshore drilling industry, has sold off dramatically over the last 1.5 years.
Fundamentals tell a compelling long-term case while recent catalysts could signal shorter-term benefit as well.
This could be an ideal time to begin to build a position in Transocean as a long-term investment.
Downside risk to oil prices could put more pressure on Transocean's stock.
The chart of any offshore drilling company over the last 1.5 years tells the story of pain in the accounts of their investors. The market valuations for many of these companies be it Transocean (NYSE:RIG), Seadrill (NYSE:SDRL), Ensco (NYSE:ESV), Diamond Offshore (NYSE:DO), or others have been cut by more than half as oil prices have been under extreme pressure. Some believe these companies will go bankrupt with the likes of Hercules Offshore (NASDAQ:HERO), but I believe many of these companies, particularly RIG, will thrive in the coming years for the reasons I lay out below.
Strong backlog and diversified fleet:
As laid out in RIG's 2Q '15 10-Q filing, cash sits at ~$3.7B (up $1B since Dec. 31, 2014) with total long-term liabilities of $10.7B, a difference of $7B. RIG has an impressive backlog as shown in the chart below, which should go a long way towards paying down current debts.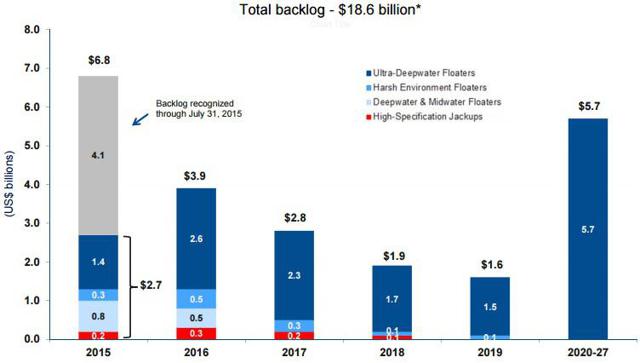 In addition to a strong backlog, RIG's diversified fleet is the largest in the industry with the largest number of Ultra-Deepwater (UDW) floaters.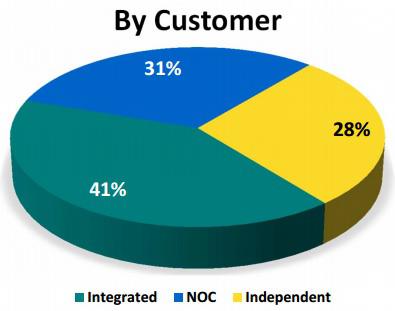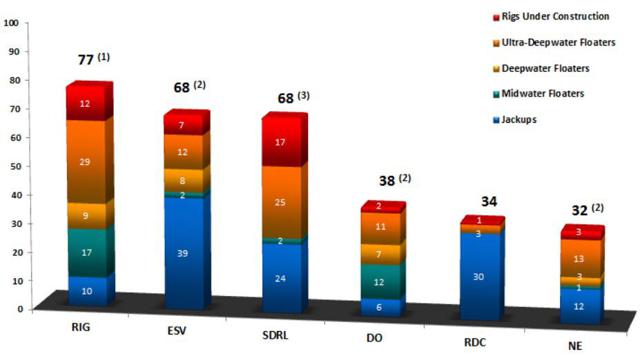 The diversified customer base limits RIG's exposure to a significant loss in revenue from any one customer, and many are large integrated companies that have survived previous cycles of low oil prices. RIG's fleet is not the youngest in the industry, but it is adding more UDW floaters and has been successfully modernizing its fleet since 2009. In 2009, RIG's average fleet age sat at ~24 years, compared with ~19 years in 2015, and a projected ~16 years by 2020.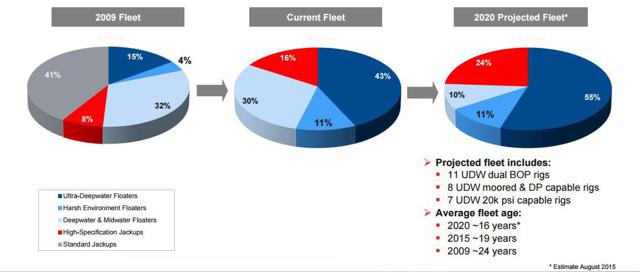 Book value is an important metric in asset-heavy industries because it indicates the fair market value available to shareholders after assets are sold and debts are paid should the company dissolve. RIG's price/book ratio currently sits at 0.44, implying that its assets are worth less than half their current estimated value, and given the strong backlog, I find that difficult to believe. That being said, the large asset impairment charges present in the industry, which occur when a company revalues its assets to reflect current market conditions, result in a decrease in book value. Enough impairment charges can lower book value so significantly that it can make loan...
More