HubSpot, Inc. HUBS is set to release third-quarter 2017 earnings on Nov 1. Notably, the company has an impressive record of earnings surprises in the trailing four quarters, with an average positive surprise of 171.01%.
The company's second-quarter revenues of $89.1 million showcased a year-over-year increase of 37.1%. The figure surpassed the Zacks Consensus Estimate of $86 million as well as the guided range of $85-$86 million. Notably, a growing customer base was the driving factor behind the year-over-year growth. Hubspot reported non-GAAP earnings of 7 cents per share against a loss of 7 cents per share in the year-ago quarter.
We note that the company recently announced positive revisions to its third-quarter 2017 guidance. Management now expects total revenue for the soon-to-be reported quarter to be within $95.9 million to $96.9 million, up from the previously guided range of $92.8 million to $93.8 million. Non-GAAP net loss per share is now expected between 2 cents and 4 cents compared with a loss of 8 cents to 10 cents per share expected previously.
The Zacks Consensus Estimate for Professional Services and Other segment revenues is $4.82 million while that for Subscription revenues is $91 million.
Hubspot stock has gained 84.1% year to date, substantially outperforming the 29.3% rally of the industry it belongs to.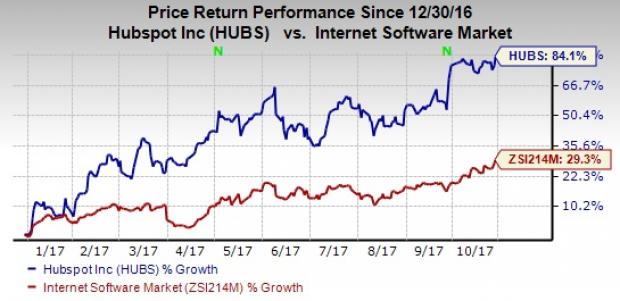 Let's see how things are shaping up for this announcement.
Factors to Consider
Hubspot's inbound marketing and sales software suite is gaining wide acceptance. During the last reported quarter, total customers increased 40% year over year to 34,326 and marketing customers increased 30% to 26,560, driven by the increased adoption of One Hubspot and a few other freemium products as complementary addition to the company's core paid sales and marketing products.
The recent enhancement of the company's marketing tools included in HubSpot Marketing Hub such as integrations with Facebook FB advertisements and Instagram, is expected to help customers better connect with their target audience.
Upgrading the professional tier of its Sales Hub solutions suite with features including automation and prediction-based lead scoring is expected to increase the probability of customer acquisition.
Additionally, the acquisitions of Motion AI and Kemvi reflect the company's focus on integrating artificial intelligence (AI) in its offerings as well as expanding its solutions portfolio. Lastly, the launch of Content Strategy, a tool to optimize search engine optimization (SEO) technique, is a positive for the company's product suite and its top line.
HubSpot, Inc. Price and EPS Surprise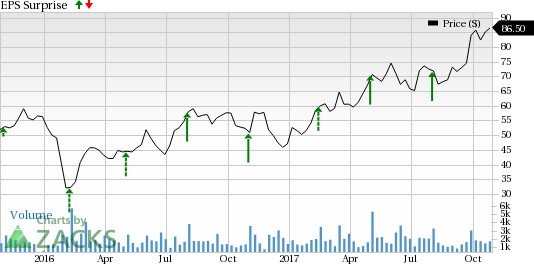 Why a Likely Positive Surprise?
Our proven model shows that Hubspot is likely to beat on earnings because it has the right combination of two key ingredients.
Zacks ESP: Hubspot's Earnings ESP is +26.53%. A favorable ESP serves as a meaningful and leading indicator of a likely positive surprise. You can uncover the best stocks to buy or sell before they're reported with our Earnings ESP Filter.
Zacks Rank: Hubspot currently carries a Zacks Rank #2 (Buy). Note that stocks with a Zacks Rank #1 (Strong Buy), 2 or 3 (Hold) has a significantly higher chance of beating earnings estimates. Conversely, Sell-rated stocks (Zacks Rank #4 or 5) should never be considered going into an earnings announcement.
The combination of Hubspot's Zacks Rank #2 and +26.53% ESP makes us reasonably optimistic of an earnings beat.
Other Stocks to Consider
Here are some companies you may consider as our proven model shows they too have the right combination of elements to post an earnings beat this quarter:
Kemet Corporation KEM sports a Zacks Rank #1 and has an Earnings ESP of +7.46%. You can see the complete list of today's Zacks #1 Rank stocks here.
NVIDIA Corporation NVDA has an Earnings ESP of +0.53%,and carries a Zacks Rank #1.
Zacks' Best Private Investment Ideas
While we are happy to share many articles like this on the website, our best recommendations and most in-depth research are not available to the public.
Starting today, for the next month, you can follow all Zacks' private buys and sells in real time. Our experts cover all kinds of trades… from value to momentum . . . from stocks under $10 to ETF and option moves . . . from stocks that corporate insiders are buying up to companies that are about to report positive earnings surprises. You can even look inside exclusive portfolios that are normally closed to new investors.
Click here for Zacks' private trades >>
Want the latest recommendations from Zacks Investment Research? Today, you can download 7 Best Stocks for the Next 30 Days.
Click to get this free report
Facebook, Inc. (FB): Free Stock Analysis Report
HubSpot, Inc. (HUBS): Free Stock Analysis Report
Kemet Corporation (KEM): Free Stock Analysis Report
NVIDIA Corporation (NVDA): Free Stock Analysis Report
To read this article on Zacks.com click here.
Zacks Investment Research