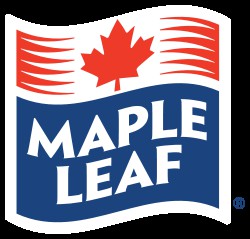 While I have cut way back of my reading of Barron's lately, I'm still a fan of the publication's semi-annual Barron's Roundtable. It really is one of the few useful articles that I get from there, besides the 13F, Stock Alert and Weekday Trader columns.
Typically my favorite ideas from the Roundtable come from Meryl Witmer and Mario Gabelli. In the past, both have had semi-Special Situation-esque (how's that for a word) tilt to their investments. Unfortunately, Ms. Witmer had not had any ideas that I have loved lately.
The idea that I want to talk right now about now actually comes from Oscar Schafer. It is a stock that I have mentioned here in the past and personally own, Maple Leaf Foods. It trades OTC in the U.S. under the symbol MLFNF, but I own the shares directly on the Toronto Exchange under the symbol MFI.
Since I purchases it early in 2014 it has underperformed the market slightly, but it has all the makings of a special situation that I love... a company bringing a new more efficient, money saving plant online. While you might not find the construction of new plants and facilities in the investing dictionary under special situations, it very much is one in my book. When companies spend tons of money on new plants, their current earnings look worse, but when the improvements are eventually operational and all of the kinks are ironed out not only will earnings normalize to pre-construction levels because the expenditures on the new asset have ceased, but they will theoretically improve because it will enable the company to operate more efficiently going forward.
There is one very dangerous aspect of this investment theme however, many companies that build expensive new facilities that will help them to operate more efficiently in the future or significantly expand their businesses have some sort of commodity price exposure. I have been burned by a drop in the price of a commodity while attempting to invest in a situation like this in the past...see Canexus. I have been thinking about this danger and why companies sometimes get burned by commodity price declines while they are building new plants and I think that I have come up with a theory as to why that happens. High commodity prices provide companies with a ton of cash to reinvest in their operations and give them an incentive to put it to work. Therefore it stands to reason that companies are prone to deciding to build new expensive new facilities at the tops of commodity cycles. This is not always the case, and it far from automatically ruins this type of investment, but it is something to think about and keep an eye on. I think that limiting position size in this type of special situation is prudent, no matter how much of a slam dunk an idea appears to be.
Back to Maple Leaf. Here's what Mr. Schafer had to say about the company in the recent Barron's Roundtable:
"In the midyear Roundtable ["Picking Up the Pieces," June 16, 2014], I recommended Maple Leaf Foods. The situation is even more interesting today, as the business will complete a five-year-plus transition this calendar year, boosting operating margins and free cash flow. Putting a typical industry multiple on the new margins could drive the stock up between 50% and 75%.
Where is the stock trading now?
Schafer: Maple Leaf is based in Canada. Shares are trading for 19.40 Canadian dollars [US$16.35] and the company has a C$2.7 billion market cap. It controls the No. 1 and No. 2 retail pork brands in Canada, with a combined market share of nearly 50%. Maple Leaf produces branded ham, hot dogs, sausages, and poultry, and it has a small hog-raising business. Despite strong revenue and a dominant market share, profit margins historically languished below U.S. peers', as the company's manufacturing and distribution systems had never really been modernized. Ebitda margins in the meat business were 4% to 6%, versus 10% at Hormel Foods [HRL], ConAgra Foods [CAG], and Hillshire Brands. But in 2009, Maple Leaf announced a plan to spend nearly C$800 million to modernize the meat business. This involved a 12% workforce reduction companywide, the implementation of SAP [SAP] software, five new manufacturing plants, and the consolidation of 17 distribution centers into two.
How did things work out?
Schafer: The transition will be complete by the third quarter of this year. When that happens, margins immediately could climb to about 10%, and the business could achieve a run rate of at least C$300 million in Ebitda. With US$500 million of idle cash on the balance sheet and the ability to add two to three times that in leverage, Maple Leaf has the balance-sheet capacity to repurchase about 50% of the company. Valuing the company's new earnings stream at more than 11 times Ebitda and 20 times earnings per share -- multiples comparable to peers -- yields a stock price in the mid-C$30s. If Maple Leaf were to be acquired at the recent industry-takeover multiple of 17 times Ebitda, there would be significant upside from here.
Gabelli: Michael McCain, who controls Maple Leaf, is unlikely to sell. But he could be open to a tax-inversion strategy."
One other aspect about Maple Leaf that was not mentioned in this quote is the fact that pork prices have been sitting at record high levels over the past year or so. According to my research, prices have fallen nearly 30% since their July high.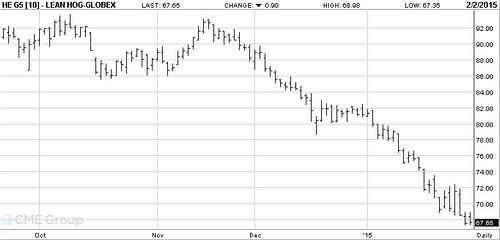 This is part due to a drop in cases of Porcine Epidemic Diarrhea Virus (ewww or the more benigh sounding acronym PEDV).
Number of PEDV cases down dramatically from last winter
http://www.agrinews.com/news/minnesota_news/number...
High pork prices hamper demand for Maple Leaf's products because when the price of this key input increases the company has to raise prices. When pork prices do eventually fall it will provide an added tailwind for the company in two ways. First it will be able to drop the prices of its products, stimulating consumer demand and increased revenue. Furthermore, as the old adage goes prices rise like a rocket and fall like a feather. Maple Leaf will theoretically be ale to lower consumer prices more slowly than its input costs will fall, thus boosting its profits as well.
In late February, Maple Leaf announced that it doubled its annual dividend from $0.16/share to $0.32/share. In the accompanying announcement, the company said:
"Today's decision reflects our confidence in the outlook for the business," said Michael H. McCain, President and CEO, Maple Leaf Foods. "We are seeing the realization of financial benefits accruing from our long term investments in network transformation, and the intention is to reward shareholders with appropriate return of capital. This dividend increase puts us at the lower end of the range of our peers in consumer packaged goods and is an important element of a multi-pronged capital allocation strategy. As we continue to make progress against our financial targets and map our growth strategy, the Board will continue to review the best options available for the capital structure."
Maple Leaf Foods raises its quarterly dividend
http://investor.mapleleaf.com/phoenix.zhtml?c=88490&p=irol-newsArticle&ID=2020602
Mr. Market didn't love Maple Leaf's most recent quarterly results. The company lost money again during the quarter, but progress is clearly being made in the its efforts to make itself more efficient.
Maple Leaf Foods Reports Results for the Fourth Quarter 2014
http://investor.mapleleaf.com/phoenix.zhtml?c=88490&p=ir...
 Here's an excerpt from a Globe and Mail article on the results:
"Maple Leaf Foods is nearing the end of the multiyear revamp in which it has sold a handful of divisions, closed six factories and expanded three while consolidating 17 distribution centres into two. Another two meat plants, in Toronto and Kitchener, Ont., are slated to close this quarter.
The company's new plant in Hamilton is ramping up to full production and is expected to be cranking out wieners and sliced meat shortly. [I don't know how I can be in my 40's and still be immature, but I got a good chuckle about the last part of this sentence.]
"Our seven year journey of investment and development, headlined by the rebuilding of our supply network, is nearing its end," said Mr. McCain, Maple Leaf Foods' largest investor. "We have completed what we set out to accomplish in 2007 and finished the year with new momentum."
Maple Leaf Foods doubles dividend despite loss as multiyear revamp nears end
http://www.theglobeandmail.com/report-on-business/...
2015 will be a key year for Maple Leaf. As the price of meat hopefully declines and its more efficient plants come completely on-line we should see it return to profitability and in turn see its stock continue to rise. I am currently long Maple Leaf and plan on holding onto my position for the foreseeable future.
Thanks for reading, commenting and recommending everyone,