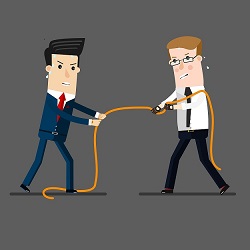 Have you ever considered whether Wall Street analysts or financial bloggers give better stock advice? Many people trust Wall Street analysts who work for big firms and have historically provided investors with the most relevant information. However, other people gravitate towards financial bloggers. These bloggers are independent consultants who trade as a hobby, are not affiliated with any big firm, and share plenty of pertinant financial advice online.
To investigate this queery, TipRanks uses machine learning technology to measure the success rate (percentage of the time a call is correct) and average return rate (the percentage a stock that went up/down based on the corresponding call) of over 9,000 financial experts on over 6,000 stocks. Drawing on this data, TipRanks tackles one of the biggest questions investors encounter: who gives the best financial advice?
Using data from January 2009 to June 2016, TipRanks discovered that bloggers are the best bet. The data from nearly 400 firms and over 134,000 Buy or Sell ratings reveals that by following the average analyst recommendation you will earn 4.41% over one year. Contrastingly, the data from approximately 30 blogs and over 162,00 Buy or Sell ratings reveals that by following the average blogger recomendation, you will earn 5.95% over one year.
While high on the list, Wall Street analysts fall second to financial bloggers in terms of overall expert rank. For example, analyst Christopher Glynn of Oppenheimer is ranked #1 out of 3,973 analysts on TipRanks. However, he falls to the #3 spot out of 9,185 overall experts. The #1 financial blogger, David Alton Clark of Seeking Alpha, is ranked #1 out of 9,185 overall experts on TipRanks. Jim Woods of Investor Place is ranked #2 out of 5,212 bloggers as well as taking the #2 spot out of 9,185 overall experts. Therefore, listening to the advice of top financial bloggers, rather than top Wall Street analysts, will typically generate the highest returns.
In an exclusive interview between TipRanks top financial blogger Chris Demuth Jr. and CEO of TipRanks Uri Gruenbaum, Gruenbaum states,
"There are a few misconceptions in our industry, one of them is that if you're an equity analyst then the more you earn or the bigger the firm you work for, the better you are in predicting the market…it is very difficult for someone to evaluate how good any analyst is based on his actual performance. That is why we started TipRanks."
-Read the full article, here