We issued an updated research report on defense major, L3 Technologies, Inc. LLL, on Jul 19, 2017. The company is a prime system contractor for aircraft modernization and maintenance; Intelligence, Surveillance & Reconnaissance (ISR) collection platforms; simulation and training; and government systems support services.
In addition to its strong presence in the U.S. defense space, the company continues to enjoy a steady flow of Foreign Military Sales (FMS) contracts as well. In particular, L3 Technologies will be definitely benefited from a large addressable international market with sales directly to foreign allied governments and FMS agreements between the U.S. Government and foreign governments. In this line, the company secured new orders in Indonesia, Korea, China, South Africa, France, Japan and Kuwait during the first quarter of 2017.
The company follows a disciplined divestment strategy to efficiently focus on its core operations. Toward this end, during the first quarter, it divested its CTC Aviation Jet Services Limited (Aviation Jet Services) business for approximately $1.3 million. The business provided non-core aircraft management and operational services as part of commercial training solutions based in the U.K.
The company also sold out its Display Product Line for $7 million, which resulted in a pre-tax gain of $4 million for the company's first-quarter results.
L3 Technologies boasts a strong balance sheet that allows it to continue with its trend of consistent dividend hike. In this line, the company raised its quarterly dividend by 7.1% in the first quarter.
Furthermore, the company's stock has gained 20.2% in the last one year, outperforming the 17.4% rally of the industry it belongs to. This might have been driven by the strong growth that the company witnesses in the commercial aviation market. In particular, the continued recapitalization of fleets by the mature markets of North America and Europe must have boosted the company's expansion.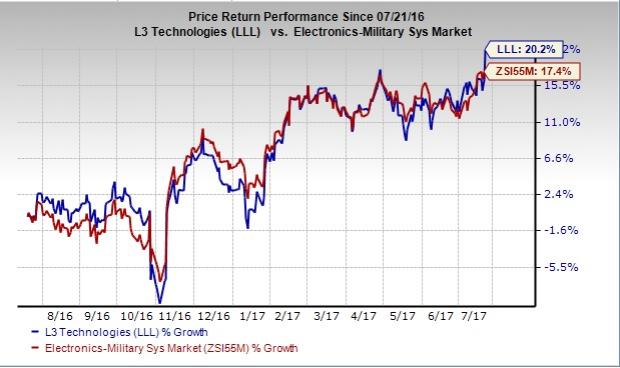 On the flip side, L3 Technologies has been witnessing weak performance in some of its product lines. The most worrying aspect of this is the downward trend in margins for service-related work due to competitive pressure.
In fact, L3 Technologies faces stiff competition from other majors in the Aerospace sector like FLIR Systems, Inc. FLIR, Arotech Corp. ARTX and Raytheon Company RTN.
Zacks Rank
L3 Technologies currently holds a Zacks Rank #2 (Buy). You can see the complete list of today's Zacks #1 Rank (Strong Buy) stocks here.
Will You Make a Fortune on the Shift to Electric Cars?
Here's another stock idea to consider. Much like petroleum 150 years ago, lithium power may soon shake the world, creating millionaires and reshaping geo-politics. Soon electric vehicles (EVs) may be cheaper than gas guzzlers. Some are already reaching 265 miles on a single charge.
With battery prices plummeting and charging stations set to multiply, one company stands out as the #1 stock to buy according to Zacks research.
It's not the one you think.
Want the latest recommendations from Zacks Investment Research? Today, you can download 7 Best Stocks for the Next 30 Days.
Click to get this free report
FLIR Systems, Inc. (FLIR): Free Stock Analysis Report
Raytheon Company (RTN): Free Stock Analysis Report
L-3 Communications Holdings, Inc. (LLL): Free Stock Analysis Report
Arotech Corporation (ARTX): Free Stock Analysis Report
To read this article on Zacks.com click here.
Zacks Investment Research