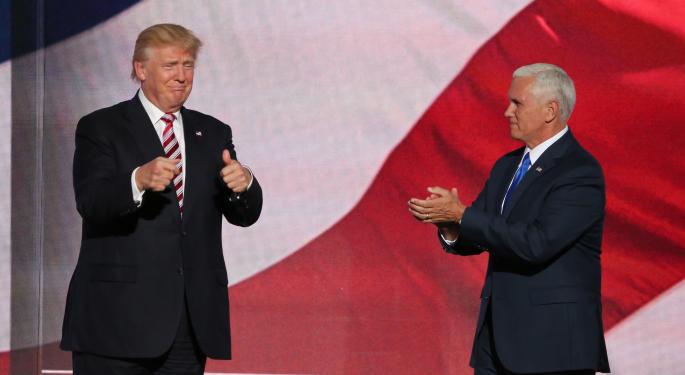 Benzinga recently attended a CFA Society of Detroit luncheon that featured speaker Greg Valliere, chief political strategist at Horizon Investments. Valliere discussed the tightening presidential race, explaining why Donald Trump is a serious threat to Hillary Clinton.
Valliere said Trump supporters have justifiable concerns about the economy.
"They still worry about layoffs, they still worry about foreclosures … they know their real disposable income has been stagnant for a decade," he explained.
Trump supporters see that Wall Street and Detroit got bailed out during the Financial Crisis, but they don't see anyone in Washington standing up for them.
According to Valliere, Democrats and journalists have been repeatedly surprised by Trump supporters' forgiving nature. Valliere admitted that he wrongly thought Trump's remarks about former POW John McCain not being a war hero would be the beginning of the end for Trump.
"I said, 'That's it – he's finished,' and Trump's [poll] numbers went up. And during the fall, he mocked the handicapped, women, minorities, and his numbers went up," Valliere recalled.
One Trump supporter at a speech in St. Louis recently explained his forgiving nature. "We all know he's a jerk, but we need someone to shake things up," the supporter told Valliere.
At the same time Trump is overcoming his obstacles, Hillary Clinton is struggling to do the same.
Valliere claims that Hillary's people see five major issues that could derail her candidacy in the weeks headed up to the election:
History: Since FDR, the same political party has only held onto the presidency for three consecutive terms one time (Reagan, Reagan, Bush).
Bernie Sanders: While Sanders will be campaigning for Clinton down the stretch, his candidacy painted Clinton as the "Goldman Sachs" candidate in voters' minds, Valliere claims.
Bill Clinton: Bill Clinton's past and Hillary's handling of the situation could be a point of criticism Trump may bring up in the debates.
Polls: Clinton's negative ratings were recently above 50 percent, and roughly two-thirds of voters don't trust her. Valliere wonders if voters could actually elect a president they don't trust.
Scandals: While Valliere believes Benghazi will likely not be a major issue for Clinton between now and the election, her email scandal and the recent allegations surrounding the Clinton Foundation will likely be areas of weakness.
While Valliere stopped short of making a prediction for the election's outcome, he did give his take on the most likely outcome.
"I think the most likely scenario and the one the markets could live with the most is one under which [Clinton] wins but wins modestly because a modest win for her means that at least one of the houses (maybe both) stay Republican," he concluded.
Heading into the first presidential debate next week, a pair of new general election polls out on Thursday by Rasmussen and the LA Times have Trump leading Clinton by 5 percent and 2 percent, respectively.
Do you have ideas for articles/interviews you'd like to see more of on Benzinga? Please email feedback@benzinga.com with your best article ideas. One person will be randomly selected to win a $20 Amazon gift card!
© 2016 Benzinga.com. Benzinga does not provide investment advice. All rights reserved.
Source