Tyson Foods, Inc. (TSN) is a food company. The company is engaged in offering chicken, beef and pork, as well as prepared foods, including bacon, breakfast sausage, turkey, lunchmeat, hot dogs, pizza crusts and toppings, tortillas and desserts. The Company offers food products under Tyson, Jimmy Dean, Hillshire Farm, Sara Lee, Ball Park, Wright, Aidells and State Fair brands. It operates through four segments: Chicken, Beef, Pork and Prepared Foods. It operates a vertically integrated chicken production process, which consists of breeding stock, contract growers, feed production, processing, further-processing and transportation of chicken and related allied products, including animal and pet food ingredients.. It is reporting earnings on Monday, August 8, before market open: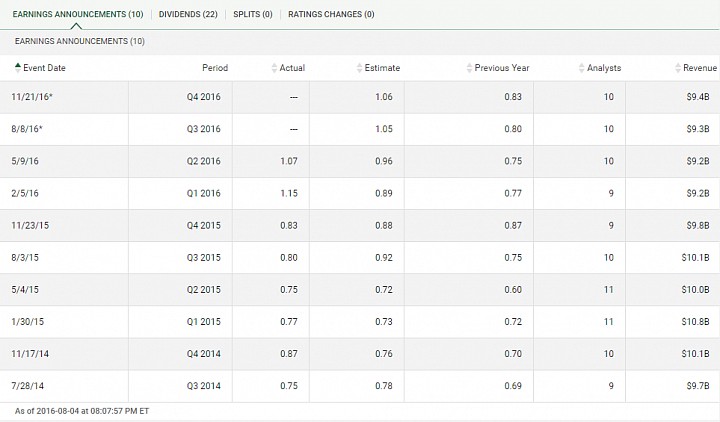 (Source: TD Waterhouse)
As evident from the above, the company beat earnings estimates in 63% of time in the last eight quarters, underperforming in 37% of time, and has seen modest volatility in the market price of its stock over the last three months:
<!== INSTRUMENT %% %60% ==!>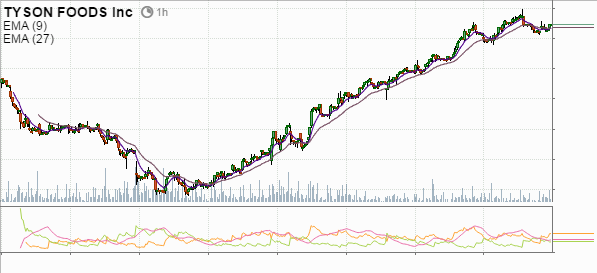 The market participants expect the following numbers over the next few quarters, including the upcoming one: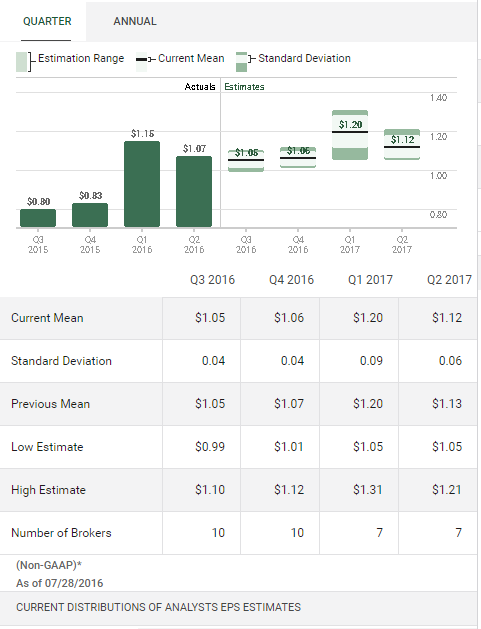 (Source: TD Waterhouse)
Market data show that the August options are fairly valued: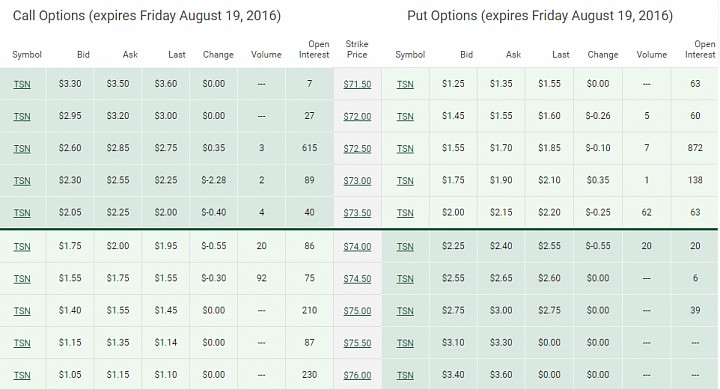 (Source: TD Waterhouse)
The two-week straddles (options with a strike price of $73.50 and expiring on August 19, 2016) are worth around 5.7% of the current market price of the stock. Historically, the stock has been more volatile than that on a monthly basis over the last year:

(Source: Google Finance. Calculations by author)
As you can see, the stock has had a monthly standard deviation of 7.9% over the last 52 weeks, while the straddle expiring in a bit less than three weeks has an implied monthly volatility of around 5.8% (calculated based on 11 business days remaining until expiration), also including volatility from the earnings event next week. I therefore see signs of negligible undervaluation in these options. Hence, buying the straddles is a good idea from a theoretical standpoint.
Investors may also be interested in selling call options against the stock to lower the cost basis of their holdings:

(Source: optionsprofitcalculator.com)
On the one hand, this will limit expected returns. On the other hand, this action will minimize losses in the event the stock goes south over the next two weeks. The risk-return profile of this trade looks like this: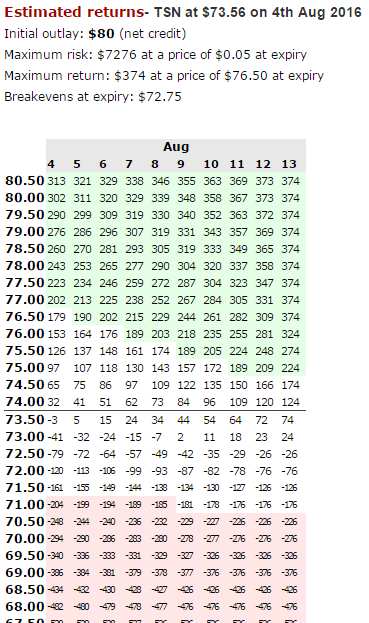 (Source: optionsprofitcalculator.com)
As you can see from the above illustration, Tyson's investors can pocket a 56% annualized return in these weekly calls. On the other hand, if the stock goes higher than $76.50 per share (an increase of roughly 5%) by next Friday, they will get a 260% annualized return (the premium from the calls and the upside from the stock up to $76.50 per share). 
What do you think of this trade?