Summary
Despite not realizing the Fed-action-induced undermining we anticipated would occur for gold by now, I am upgrading gold and precious metals relative securities to buy.
We have entered a period in which gold should benefit from important seasonal influences.
As fiscal year books ready to close for many institutional fund managers, equity market volatility tends to increase, serving gold.
A long span extends from the Fed's July inaction to its next meeting, and market expectations are greatly weighted toward another pause in September as well.
Geopolitical fires in Turkey and especially Russia seem set to escalate near-term, and I would expect either to serve gold appreciation.
Federal Reserve paralysis in 2016 has allowed the gold bubble we thought would pop on Fed action by now, instead to expand and to firm. I continue to believe eventual Fed action will undermine the support under gold and that we could still see volatility in the metal in the second half of September ahead of the Fed decision. However, key seasonal factors weigh importantly for gold now in this period of volatility. Thus, at this point in time, I am sensibly pulling my negative perspective that has been in place since the significant initial pop in the metal into mid-February (which followed my early year "buy" recommendation). The likelihood of appreciation in gold and precious metals relative securities is increased over the short-term into September or longer if the Fed is kept on hold by events(keep reading). Thus, investors may buy gold and relative securities during this period that is likely to trend positively for precious metals.
In my last report on gold, I said the precious metal could still backtrack even with a Fed pause, but that was before we got the surprising news of the serious shortfall in Q2 GDP and the disappointment from the Bank of Japan (BOJ) stimulus. The turn of events; the Fed inaction; the long span before the next Fed meeting; this historical period of volatility we are now within; and a couple geopolitical fires I see capable of exploding near-term require I act sensibly and pull my negative view on gold. It is something I expected to do at this point on the calendar all along, though I thought it would be after a dip in gold on a Fed action by now. Still, time matters, and even without that dip or Fed action, I believe it is now prudent I upgrade my opinion on gold and relative securities with a focus on their future prospects.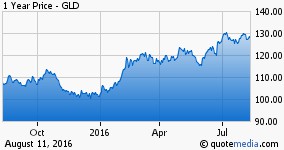 GLD 1-Year Chart at Seeking Alpha
What had happened was…
A series of events played out this year to cause the Fed to severely alter its December discussed plans to raise interest rates four times in 2016, which would most certainly have weighed against gold. The factors that got in the way were tangible and included:...
More