We expect Vertex Pharmaceuticals, Inc. VRTX to beat expectations when it reports its second-quarter 2017 results on Jul 26, after the market closes.
Year to date, Vertex's shares have soared 116.3% while the industry has recorded an increase of 11.2%.

Vertex's track record has been impressive so far. The company delivered positive earnings surprises in three and missed expectations in one of the last four quarters. The average positive earnings surprise for the last four quarters is 406.25%. In the last reported quarter, Vertex posted a positive surprise of 225%.
Vertex Pharmaceuticals Incorporated Price and EPS Surprise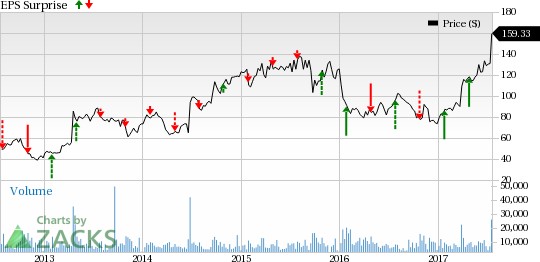 Vertex Pharmaceuticals Incorporated Price and EPS Surprise | Vertex Pharmaceuticals Incorporated Quote
Let's see how things are shaping up for this quarter.
Factors at Play
Sales of Vertex's both cystic fibrosis (CF) drugs — Kalydeco & Orkambi — rose in the first quarter. We expect this positive trend to continue in the second as well.
In May 2017, Kalydeco gained an FDA approval for use in patients 2 and older who have one of 23 residual function mutations in the cystic fibrosis transmembrane conductance regulator (CFTR) gene. Over 900 people in the U.S. have one of these mutations. Following the approval, Vertex upped its Kalydeco 2017 revenue guidance to $740-$770 million. We expect this expanded indication to boost Kalydeco sales in the second quarter.
Orkambi's sales growth will be dependent on reimbursement discussions in Europe in 2017. Last week, Vertex announced that it has struck a re-imbursement agreement in Italy for Orkambi, thereby making the medicine more accessible in the country. Though the reimbursement agreement will not be beneficial in the second quarter, it should contribute to sales in the second half of the year. In the first quarter, the company had also mentioned that if it gains reimbursement in France this year, it would contribute significantly to revenue growth this year.
Vertex is also evaluating some next-generation CFTR correctors (VX-152, VX-440, VX-659 and VX-445) as part of a triple combination with tezacaftor and ivacaftor.
Data from VX-152 and VX-440 phase II and VX-659 phase I triple combination studies presented earlier this week, have showed that all three combinations led to a pronounced improvement in lung function. Phase II study on VX-659 is expected to be initiated in early Aug.
Phase II studies on the fourth next-generation corrector, VX-445 (triple combination with tezacaftor and ivacaftor), are already going on. Data from VX-445 and VX-659 phase II studies are expected in early 2018. Thereafter, upon discussion with regulatory agencies, Vertex will initiate its pivotal studies on one or more of these triple combination regimens in the first half of 2018.
If the triple-combo regimes are successful, Vertex can address a significantly larger CF patient population.
Investor focus at the call will be on these triple combination CF regimens, crucial for long-term growth of Vertex.
However, operating expenses are likely to shoot up as Vertex expands its pipeline.
What Our Model Indicates
Our proven model shows that Vertex is likely to beat estimates this quarterbecause it has the right combination of two key ingredients. For astock needs to have both a positive http://www.zacks.com/earnings/earnings-surprise-predictions/">Earnings ESP and a Zacks Rank #1 (Strong Buy), 2 (Buy) or 3 (Hold) for this to happen.
Zacks ESP: Earnings ESP, which represents the difference between the Most Accurate estimate (earnings of 10 cents) and the Zacks Consensus Estimate (earnings of 6 cents), stands at +66.7%. This is a leading indicator of a likely positive earnings surprise. You can uncover the best stocks to buy or sell before they're reported with our Earnings ESP Filter.
Zacks Rank: Vertex currently flaunts a Zacks Rank #1 (Strong Buy). So its desirable combination makes us reasonably confident of an earnings beat.
Conversely, we caution against the Sell-rated stocks (#4 or 5) going into the earnings announcement, especially when the company is seeing negative estimate revisions.
Stocks That Warrant a Look
Here are some health care stocks that you may want to consider, as our model shows that these have the right combination of elements to post an earnings beat this quarter.
Gilead Sciences, Inc. GILD is scheduled to release its results on Jul 26. The company has an Earnings ESP of +3.23% and a Zacks Rank #3. You can see the complete list of today's Zacks #1 Rank stocks here.
Celgene Corp. CELG is scheduled to release its results on Jul 27. The company has an Earnings ESP of +0.62% and a Zacks Rank #3.
Proteostasis Therapeutics, Inc. PTI, which is expected to release results on Aug 8, has an Earnings ESP of +6.56% and a Zacks Rank #3.
Will You Make a Fortune on the Shift to Electric Cars?
Here's another stock idea to consider. Much like petroleum 150 years ago, lithium power may soon shake the world, creating millionaires and reshaping geo-politics. Soon electric vehicles (EVs) may be cheaper than gas guzzlers. Some are already reaching 265 miles on a single charge.
With battery prices plummeting and charging stations set to multiply, one company stands out as the #1 stock to buy according to Zacks research.
It's not the one you think.
Want the latest recommendations from Zacks Investment Research? Today, you can download 7 Best Stocks for the Next 30 Days.
Click to get this free report
Vertex Pharmaceuticals Incorporated (VRTX): Free Stock Analysis Report
Gilead Sciences, Inc. (GILD): Free Stock Analysis Report
Celgene Corporation (CELG): Free Stock Analysis Report
Proteostasis Therapeutics, Inc. (PTI): Free Stock Analysis Report
To read this article on Zacks.com click here.
Zacks Investment Research