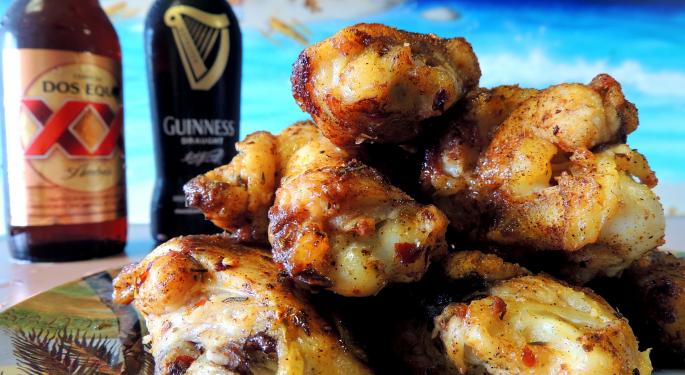 Restaurant chain Buffalo Wild Wings BWLD 0.66% is scheduled to release its third-quarter earnings scorecard after the markets close Wednesday.
With the restaurant group dishing out unpalatable quarterly numbers, expectations from Buffalo Wild Wings are muted.
BJ's Restaurants, Inc. BJRI 0.53% reported last week below-consensus third-quarter earnings per share of $0.30, representing 23 percent year-over-year growth.
Comparable store sales fell 4 percent and traffic fell 4.2 percent, although checks rose 0.8 percent on the back of a 2.5 percent increase in pricing. Restaurant margin was underwhelming at 17.7 percent, hurt by food cost pressures. The stock has shed 5.5 percent since the earnings announcement.
Earlier Wednesday, Chipotle Mexican Grill, Inc. CMG 8.99% reported a huge earnings per share miss coupled with a $90 million miss for revenues. Comparable store sales decrease of 17.9 percent reflected the ongoing travails at the company, which has fallen a victim to food scares over the past year.
Moving back to Buffalo Wild Wings, the Street is modeling earnings per share of $1.23, up from $1 in the year-ago period. Revenue growth is estimated at 10.10 percent resulting in quarterly revenue of 501.51 million.
In a research note released mid-October, Wedbush said it sees near-term EPS upside from Buffalo Wild Wings, thanks to food costs tailwinds, non-COGS expense management and second half outperformance relative to lowered expectations.
The company will benefit in 2017 from many comp initiatives such as the roll out of half price wing Tuesdays, lunch throughput, online ordering/takeout remodels, loyalty and various technology implementations, the firm noted. Citing expense opportunities, the firm said it believes the company might be targeting 20 percent unit level margins.
Meanwhile, macroeconomic data also shows a secular shift away from eating out, as cautious consumers prefer to save rather than spend in the current uncertain economic condition.
Consumer price inflation report for September released by the Labor Department last week showed that overall food prices remained unchanged. However, cost of eating away from home rose 0.2 percent, while the cost of eating at home slipped 1 percent.
At last check, Buffalo Wild Wings was trading at $135.45, down 0.62 percent.
Date
Firm
Action
From
To
Oct 2016
Wedbush
Maintains
Neutral
Oct 2016
Barclays
Maintains
Underweight
Oct 2016
Morgan Stanley
Maintains
Equal-Weight
© 2016 Benzinga.com. Benzinga does not provide investment advice. All rights reserved.