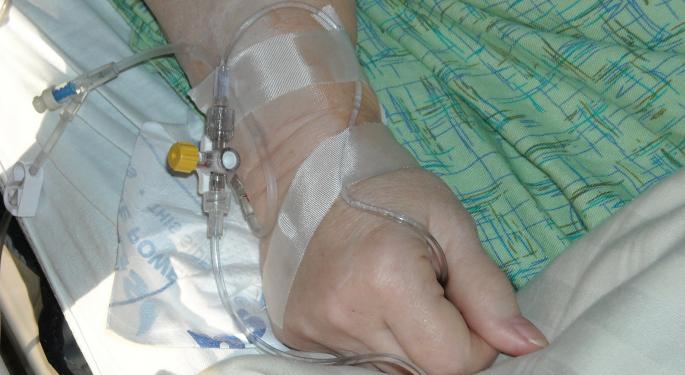 Recro Pharma Inc REPH 14.12% is a micro-cap specialty pharmaceutical company focused on the development of non-opioid products for the treatment of serious acute pain. After a very volatile year, the stock is down 9.4 percent, although it has gained almost 14.5 percent in the last month, largely on the back of strong results out of its Phase 3 clinical trial evaluating IV meloxicam for the treatment of serious acute pain — in this case derived from abdominoplasty surgery.
Benzinga recently had the chance to speak with CEO Geraldine A. Henwood, Ph.D., who shared some insight into the business.
IV Meloxicam
"We are very excited about the results," the exec commented. "We now are in the position, we believe, to have the efficacy part of our New Drug Application (NDA) in hand [...] We will be supplementing that with some post-filing studies that we'll be doing to address specific economic issues in the marketplace as well."
"We thought the safety profile remained excellent for the product," she added.
The study in question met not only its primary endpoint of statistically significant reduction in SPID24, but also 10 other secondary endpoints. When asked about the endpoints that were not reached, Henwood explained, "The only one that I would've liked to have seen a hit, and which was trending in the right direction, but which did not hit statistical significance was the six-hour [endpoint]. You will notice that we did hit time-to-perceptible-pain-relief, and got significance on that, which gives you an idea that patients' own assessment of how quickly the product works, but we did not hit the SPID6, and I think that is due to this higher placebo response [similar to the SPID12 case] and early use of rescue."
"I'm particularly happy to see that we did get good value for the percent of patients with greater that, or equal to 30 percent improvement," she concluded. "Most pain specialists will say that if you can get a patient to that degree of improvement, they are feeling remarkably more comfortable."
The Market
The FDA wants to see that a drug can manage both soft and hard tissue pain, Henwood went on to explicate. "So, we would expect to be able to be used not only for abdominoplasty, but for any kind of hard of soft tissue surgery that warrants a drug for serious pain."
There's a large number of patients that could benefit from meloxicam not being an opioid and having no narcotic characteristics that slow down bowel activity, the chief executive added. "So, you can give somebody a dose of this before they left the hospital and you'd have them pretty well covered for the next 24 hours for pain [...] until they are able to take other oral medications."
Liked this interview? Now check out our recent conversations with Eyegate Pharmaceuticals Inc EYEG 1.76%'s CEO, who discussed the De Novo pathway for therapeutic eye drops, or the interview with BioTime, Inc. BTX 2.54%'s CEO, who explained stem cells and how BioTime uses them.
© 2016 Benzinga.com. Benzinga does not provide investment advice. All rights reserved.