For those watching Janet Yellen's speech this evening, the fact that she seemed to struggle towards the end of her speech was a surprise. Now we know why...
**FED'S YELLEN GETTING MEDICAL ATTENTION AFTER SPEECH -REUTERS
It is hardly surprising given that she now carries the weight of the world's economic and market strength on her shoulders.
https://twitter.com/grobb2000
,
Yellen faltered at end of her speech. Last page was agonizing. I don't think she felt well but she seemed better when she left the stage.
The initial reaction was a dive in stocks...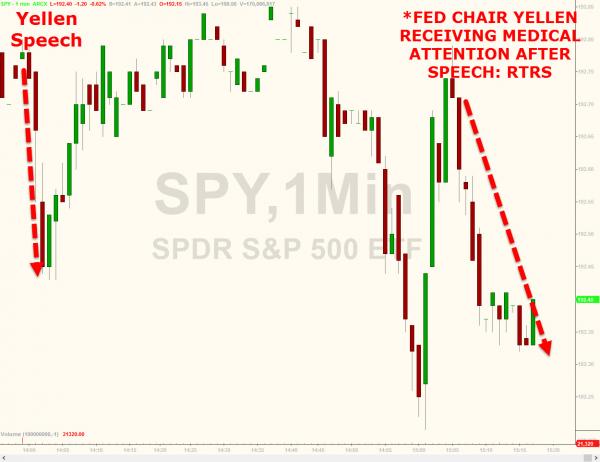 Fed Chair Janet Yellen is receiving medical attention after her speech at UMass, Reuters reports, citing an unidentified University of Massachusetts official.
And she's fine

https://twitter.com/zerohedge

pic.twitter.com/0vSNipWQUh

— JM (@capitulaton)

https://twitter.com/capitulaton/status/647173965841088512
Then this...
*YELLEN IS DEPARTING SPEECH EVENT, RESUMING SCHEDULE: U. MASS
*YELLEN IS HEADING TO A SCHEDULED DINNER - U. MASS SPOKESMAN
Some Twitterati suggested that perhaps she was just sick of her speech...
*  *  *
All-Clear given... Buy!
*UMASS MEDIC RICE HELPED ATTEND TO YELLEN AFTER SPEECH
*YELLEN DIDN'T GO TO HOSPITAL, RICE SAYS
*YELLEN IS FINE, UMASS MEDIC SHAUNA RICE SAYS