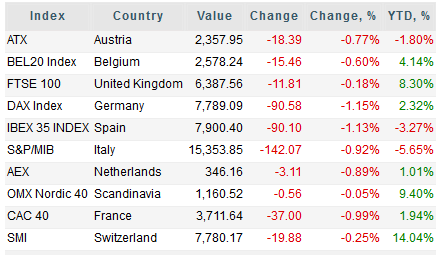 Natalia Asedova
, Analyst, Global Markets (Finam)
On Wednesday, March 27, European equities traded lower on disappointing news from Italy, where the center-left leader Pier Luigi Bersani, tasked with forming a new government last week, failed to come to terms with the anti-establishment Five-Star Movement.
In the last month's election, Bersani won a majority in the lower house of the Italian government, while he needs additional backing from the Senate to put together a new coalition. Yesterday's talks with the Five Star Movement, which garnered a quarter of all votes in February's election, yielded no results as centrists still refuse to support any party, dragging the markets down.
Italy's debt auction also unsettled investors. The Italian government managed to raise just EUR 6.91 bn (USD 8.84 bn) of the projected EUR 7 bn, while the bid-to-cover ratio for 5- and 10-year bonds decreased.
As for the indexes, Britain's FTSE 100 was off 0.18%, France's CAC 40 gave up 0.99%, while Germany's DAX retreated 1.15%. The regional gauge STXE 600, in turn, dipped 0.45% to finish at 292.44.
Italian lenders ended up among the decliners, with Banca Monte dei Paschi di Siena and Banco Popolare sliding 4.3% and 1.3%, respectively.
Meanwhile, Danish telecommunications company TDC dropped 1.6% after NTC Holding reported having sold DKK 2.49 bn (USD 427 mn) of its stock.
Safran, French aerospace component manufacturer, saw 1.5% shaved off its market cap on news the country's Finance Ministry offloaded a EUR 449 mn (USD 574 mn) stake in the company.
Among the day's outperformers, Italian media group Mediaset spiked 5.3%. In spite of posting FY losses for the first time in its history, the company logged EUR 3.72 bn of sales last year, overshooting analyst projections of EUR 3.59 bn.
Anticipating a rise in annual profit, Europe's largest travel company TUI Travel jumped 4%.
In pre-trading, the key regional indexes were on a southward track. By 7:46 GMT Britain's June FTSE 100 futures were 0.11% lower, Germany's DAX futures for June delivery were off 0.04% and France's CAC 40 futures for April delivery were down 0.09%.