Ten-year yield closes above key mark for first time since May
Breakthrough has traders eyeing 2.5% and 2.6% levels
The bond bears may finally be having their moment.
The 10-year Treasury yield rose five basis points Tuesday to 2.42 percent, closing above 2.4 percent for the first time in five months. The yield had previously failed to sustain increases above that mark on several occasions since May, making it a bellwether of the potential for yields to return to their highs of the past year.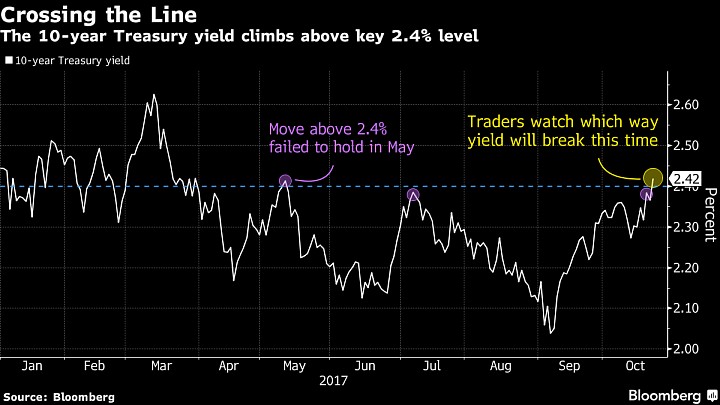 The 10-year yield rose as high as 2.4262 percent Tuesday after President Donald Trump asked Senate Republicans for a show of hands in support of potential nominees to lead the Federal Reserve. Stanford University economist John Taylor, a perceived hawk, appeared to win the poll, according to Senator Tim Scott of South Carolina.
"The moment of truth has arrived for secular bond bull market!" DoubleLine Capital Chief Investment Officer Jeffrey Gundlach tweeted Tuesday, just before yields touched session highs. "Need to start rallying effective immediately or obituaries need to be written."
Bulls Beware
Gundlach has gone after bond bulls throughout 2017. He said in January that the 10-year yield would move toward 3 percent, ending the bond bull market, and that it wouldn't be radical to forecast a 6 percent yield by 2020.
Treasuries were already declining in the past week amid renewed signs of progress on a tax-cut plan. House Republicans are planning to release a bill on Nov. 1, according to Politico. The prospect of fiscal stimulus, which the bond market had counted on earlier this year, could supercharge the economy and inflation.
Solely based on technical analysis, the 10-year yield still faces impediments before it breaks higher, as it's brushing against areas that may lure buyers. Fibonacci retracement analysis starting from the December high of 2.64 percent indicated that 2.4 percent was crucial. And 2.42 percent had represented the peak intraday level since late March.
Options Caution
Before Tuesday's afternoon leap, options market trading indicated doubts about the 10-year yield sustaining its climb. A flurry of activity on Tuesday indicated renewed interest in November call spreads on 10-year Treasury futures, which is effectively a bet against the yield barreling through the 2.4 percent to 2.42 percent range.
Key events before the position's expiry on Friday include the European Central Bank's policy meeting, a reading on third-quarter U.S. economic growth and potentially a decision on the next Fed leader.
"It'll be important to see how the overnight session evolves and whether investors push yields to even higher levels," New York-based BMO Capital Markets strategists Ian Lyngen and Aaron Kohli wrote in a report Tuesday. Should that happen, "it'll offer more convincing evidence of a clear break in the psychologically important 2.4 percent level with 2.5 percent likely in the crosshairs shortly thereafter."
Gundlach has company in warning of further losses. Bill Gross at Janus Henderson Group said this month that it would take a sustained move in 10-year yields above 2.4 percent to convince him that the three-decade bond bull market is reversing.
No matter how you look at it, Treasuries are at a make-or-break moment. The next step may depend on what happens in Washington.
"The extent to which markets, rates and economic performance are predicated on successful implementation of tax cuts/reform can't be overstated," Scott Minerd, chief investment officer at Guggenheim Partners, said on Twitter on Tuesday.
— With assistance by Edward Bolingbroke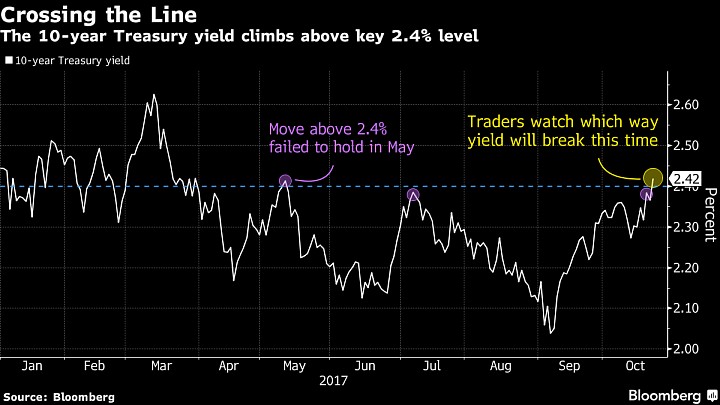 More