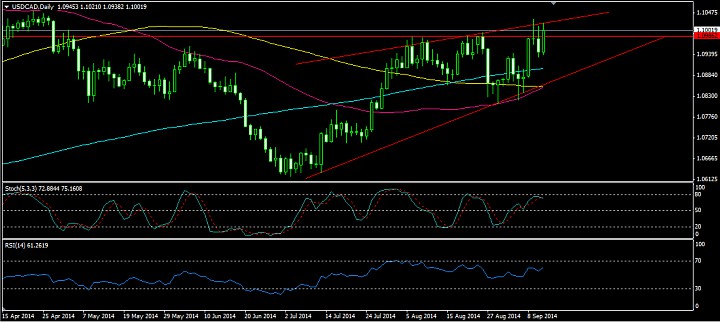 USDCAD : Daily Chart
USDCAD today seems to be trading above the consolidation range which it was earlier following. On the daily chart, we can see that the pair was earlier following an ascending triangle trend which it again attempted to break out today and currently trading above the key resistance at 1.0986. However apart from this there seems to be another trend on the chart which is the rising wedge. There is another rising resistance trend line which is preventing the pair rising upward. If it continues to resist the pair is rising, it might again decline towards the consolidation range. A rising wedge pattern gives a bearish signal so finally according to the trend the pair might decline breaking below the rising support trend line of the wedge once it reaches the apex. However if the pair breaks above the resistance trend line of the wedge, the bearish signal will fade away and it will continue to follow the uptrend. 
Now the key reason for today's surge despite of the downbeat US jobless claims is the missed New Housing Price Index data from Canada. 
"The official data showed that the New Housing Price Index remain unchanged in July,following a .2% increase in June. Economists were expecting the same amount of increase that is .2% in July as well."

Investors would now turn their attention towards upcoming US data which is Retail Sales and Consumer Sentiment data releasing tomorrow.If it beats the economist's expectation, USDCAD might break above the rising wedge and fade away the bearish outlook otherwise the pair currently seems bearish to me.