Observations
Other than a brief knee jerk downside reaction at 2:00 PM, U.S. equity markets had little response to the FOMC's decision to maintain the Fed Fund rate at 0.25%-0.50%.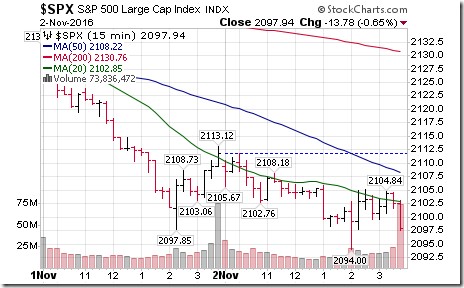 StockTwits Released Yesterday
Equity benchmarks break down leading to a surge in hedging activity.
Technical action by S&P 500 stocks to 10:00: Bearish. Breakouts: $KR, $ADP, $TEL. Breakdowns: $KMI, $SE, $LUK, $ILMN, $V, $CCI, $NI, $SRE, $DLR
Editor's Note: After 10:00 AM EDT, ADP broke intermediate resistance while, NFX, PXD, AES, SCHW, RHT, GOOGL, ADSK, PSX and GPN broke intermediate support.
TransCanada $TRP.CA moved below $60.11 and $58.23 on equity issue establishing downtrend.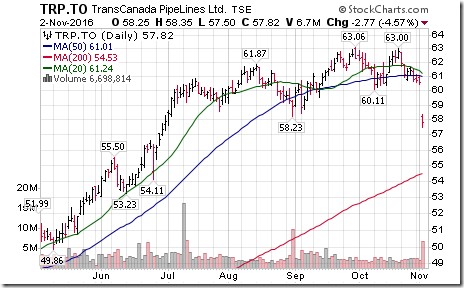 Enbridge $ENB.CA, a TSX 60 stock moved below $56.36 completing double top pattern.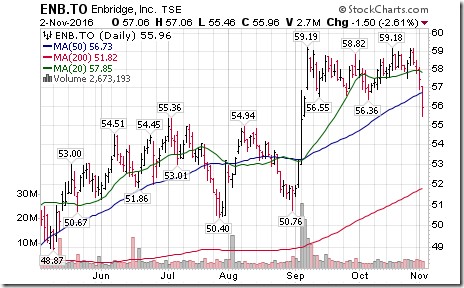 George Weston $WN.CA, a TSX 60 stock moved below $107.47 and $107.28 extending intermediate downtrend.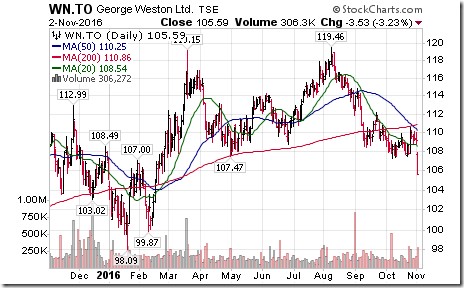 Silver stocks continue to respond to higher silver prices. $HL, $SIL. Nice breakout by Hecla Mining!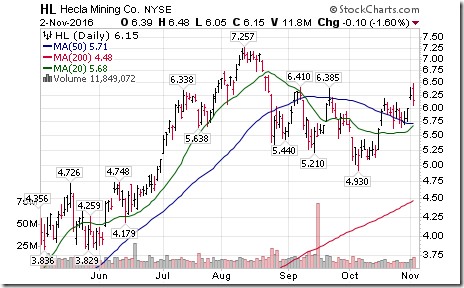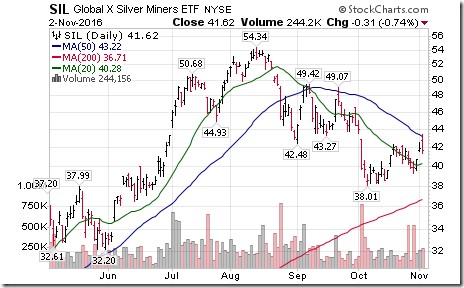 South Korea ETF $EWY moved below $54.55 completing a double top pattern.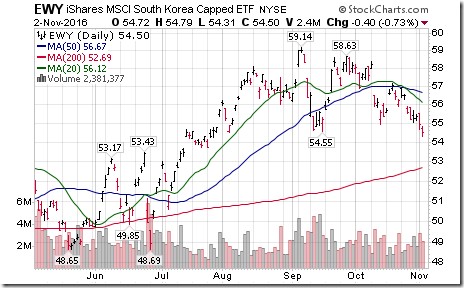 More international ETFs developing intermediate downtrends: $EEM, $RSX, $IEV
Emerging markets ETF $EEM moved below $36.38 developing intermediate downtrend.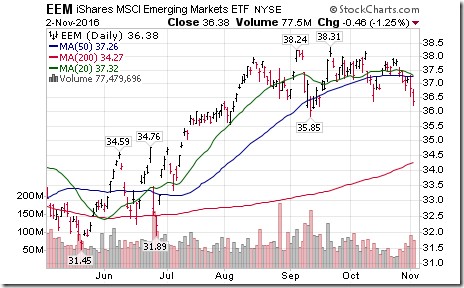 Europe iShares $IEV moved below $37.71 extending intermediate downtrend.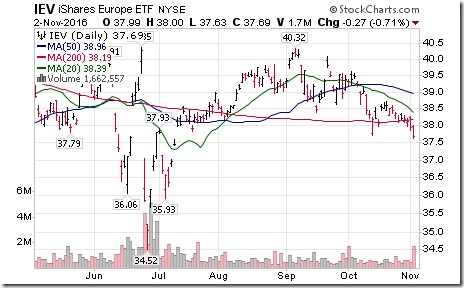 Russia ETF $RUS moved below $18.11 completing a double top pattern.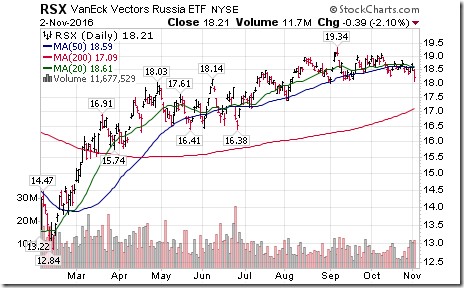 Adrienne Toghraie's "Trader's Coach" Column
Waiting for Opportunity
Traders waste too much time when they are waiting for an opportunity. So, what should you be doing? What if you went to the next step, assuming that the opportunity had already arrived?
Waiting for the opportunity
Rob knew he wanted to be a trader from the time he was a child. He would often have dreams of seeing his uncle in the pit of the Chicago exchange, waving his hands around and shouting for orders. But Rob's father was not so lucky in business or in life. He went bankrupt and lost his life to a heart attack when Rob was only twelve years old. As the oldest brother of four children, Rob had to leave school to assume some of the responsibilities of the household. But Rob did not give up his dream as he worked at his blue-collar job to help his mom. In the few hours of spare time each week, he read from his uncle's library of trading books. One day, at a family dinner Rob's uncle was amazed at the level of knowledge of trading that Rob had accumulated. His uncle hired Rob as a runner at the age of twenty-one. It was uphill from there. Eventually, Rob became one of the best traders in the S & P pits.
If Rob had waited for someone to give him an opportunity without taking the next step of being prepared, it would be unlikely that the opportunity would have come. And if it did, he most likely would have failed.
Waiting for enough money
Lee also saw trading as a dream and often said that someday he would be a trader when he had enough money. The problem was that, unlike Rob, Lee never learned how to trade while he was in the process of saving the money he needed for trading. When Lee finally took the big plunge and gave up his job to be a trader, he lost most of what he had saved because he did not have all of the resources he needed. He learned that money alone was not the answer.
Waiting for the right time
Daniel took another approach to trading. While he practiced corporate law, his dream was to retire into a new career in trading. He first started as an investor, moving his account around to get the best interest rates in mutual funds. While he did this over the years, he would go to conferences, read books and take courses. In the last two years before retirement Daniel worked his job half time while being a swing trader. When Daniel retired, he earned more money as a trader than he would have in five years working as a lawyer.
Waiting for the right timing
Some traders build stress in themselves while waiting for an opportunity in trading. Often, they force a trade. Compare this approach to traders who enjoy reading charts or trading books while waiting for their computer to notify them a trade is about to happen.
Use "waiting time" to your advantage by using that time as an opportunity to do tasks towards obtaining and enhancing your goals.
Editor's Note: Like waiting until after the Presidential election before making a major commitment in equity markets.
Trader's Corner
Daily Seasonal/Technical Equity Trends for November 2nd 2016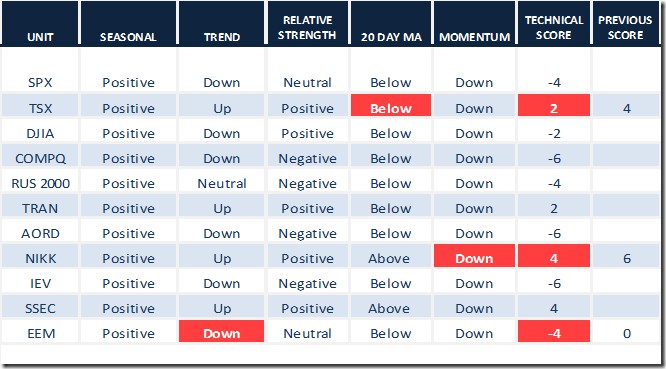 Green: Increase from previous day
Red: Decrease from previous day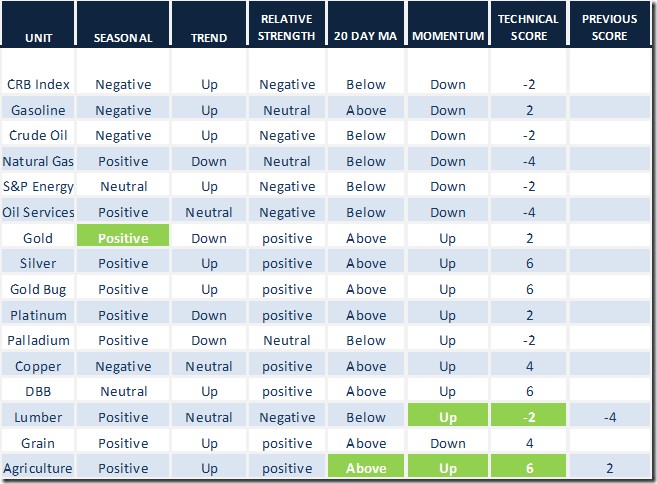 Green: Increase from previous day
Red: Decrease from previous day
Daily Seasonal/Technical Sector Trends for November 2nd 2016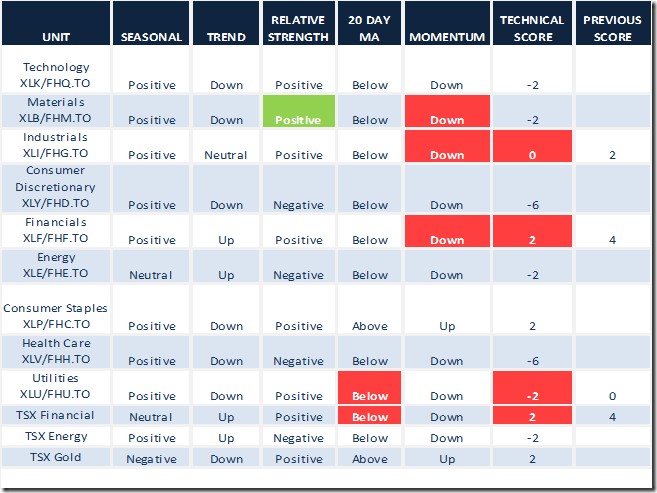 Green: Increase from previous day
Red: Decrease from previous day
Special Free Services available through www.equityclock.com
Equityclock.com is offering free access to a data base showing seasonal studies on individual stocks and sectors. The data base holds seasonality studies on over 1000 big and moderate cap securities and indices. To login, simply go to http://www.equityclock.com/charts/ Following is an example: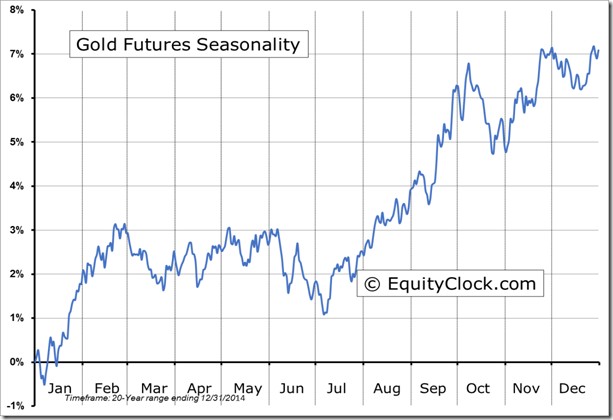 S&P 500 Momentum Barometer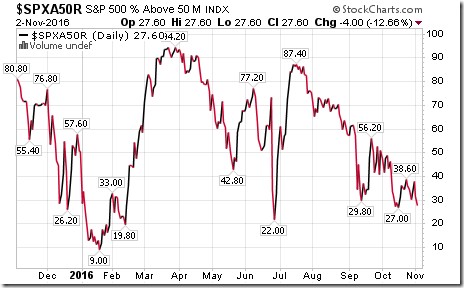 The Barometer dropped 4.00 to 27.60 yesterday. It remains intermediate oversold and testing 27.00 set on October 13th
TSX Momentum Barometer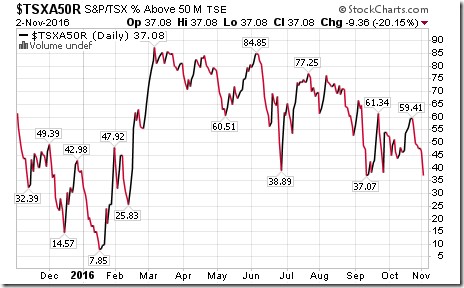 The Barometer plunged 9.36 to 37.08 yesterday. It has returned to an intermediate oversold level and has returned to its September 13th low.
Disclaimer: Seasonality and technical ratings offered in this report by www.timingthemarket.ca and www.equityclock.com are for information only. They should not be considered as advice to purchase or to sell mentioned securities. Data offered in this report is believed to be accurate, but is not guaranteed