CARLSBAD, Calif., and CAMBRIDGE, Mass., Nov. 5, 2015 /PRNewswire/ -- Isis Pharmaceuticals, Inc. (ISIS) and its wholly owned subsidiary, Akcea Therapeutics, today announced the start of a Phase 3 study to evaluate the efficacy and safety of volanesorsen in patients with familial partial lipodystrophy (FPL). Akcea is currently conducting an international, multi-center Phase 3 study of volanesorsen in patients with Familial Chylomicronemia Syndrome (FCS). Akcea is developing and plans to commercialize volanesorsen for two ultra-rare diseases, FCS and FPL.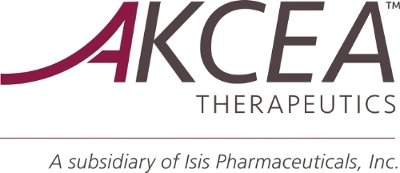 Familial partial lipodystrophy is a rare, genetic disorder characterized by metabolic abnormalities, including hypertriglyceridemia and extreme insulin resistance, and abnormalities in the distribution of body fat. Patients with FPL have a high risk at an early age of diabetes, liver disease, and cardiovascular disease. In addition, extreme hypertriglyceridemia puts them at risk for potentially life-threatening pancreatitis. Since it is most often an inherited, autosomal dominant disorder, FPL can be passed down from one generation to the next in affected families.
"Every day, people with FPL struggle to manage the burden this disease brings across virtually every major organ system in their body," describes Dr. Elif Oral of the University of Michigan. "FPL takes an enormous toll on those affected – both physically and psychologically. There is still no pharmacologic therapy developed specifically for this patient population. For these patients in particular, the potential benefit of inhibiting the synthesis of apoC-III is very promising."
According to Paula Soteropoulos, CEO of Akcea Therapeutics: "The late-stage development of volanesorsen for people with FPL perfectly reflects Akcea's vision, which is to bring transformative therapies to patients and address the root causes of serious, underserved cardiometabolic disorders. Akcea's initiation of this second Phase 3 program reflects our focus and expertise at developing and commercializing medicines for complex disorders that are not addressable through other therapeutic modalities."
Volanesorsen is a Gen. 2.0+ antisense drug designed to reduce the production of apoC-III, a protein that acts as a key regulator of triglyceride levels in the blood. Patients with elevated triglyceride levels are at significant risk for coronary artery disease and diabetes. Extremely high triglyceride levels put patients at risk of pancreatitis, a serious and potentially life-threating illness. In addition, elevated levels of apoC-III are recognized as an independent contributor to...
More