There's something tragically ironic about the fact that many of the refugees fleeing war-torn Syria have to make their way through Turkey in order to access the (increasingly arduous) Balkan route to the German "promised land." 
After all, it's not exactly like Ankara has done much to help when it comes to promoting stability in Syria. Turkey, like the US, Saudi Arabia, and Qatar, wants Bashar al-Assad gone and the Erdogan government has been variously accused of aiding and abetting ISIS for some time now. In fact, the PKK and HDP (with the latter using more politically correct language) has suggested that Ankara may be using ISIS to carry out suicide attacks against Turkish citizens in order to scare voters ahead of elections next month. 
So, Syrian asylum seekers are effectively forced to traverse the country whose government has contributed mightily to their suffering. 
Of course the borders in Eastern Europe are bursting with migrants and now that Hungary has closed her borders with both Serbia and Croatia, the people flow has been diverted and Slovenia has now become the choke point on the route north to Germany.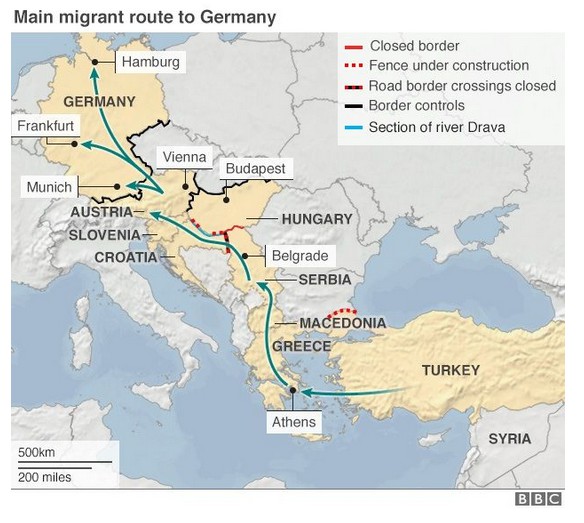 And speaking of Germany, there's a growing domestic backlash against the flow of asylum seekers into the country. The Iron Chancellor has of course made it abundantly clear that Germany will not be closing her doors to those fleeing the Mid-East, a position which has made Merkel something of a celebrity among Syrian refugees. At home however, Merkel's approval rating dropped to a four year low this month suggesting that Berlin is testing voters' patience with its stance on the migrant flows. 
In an effort to ameliorate the "problem," Merkel visited Turkey over the weekend and although there was progress on a plan that essentially calls for cash bribes from Brussels along with visa free travel for Turks in the Schengen, PM Ahmet Davutoglu (otherwise known as "that guy who Erdogan sends when it's not really important") has assured the world that despite the deal with the EU, Turkey is "not a concentration camp." Here's more from AFP: 
Turkish Prime Minister Ahmet Davutoglu said on Monday his country was "not a concentration camp" and would not host migrants permanently to appease the EU, which wants Turkey to stop the flow of people to Europe.

 

"We cannot accept an understanding like 'give us the money and they stay in Turkey'. Turkey is not a concentration camp," Davutoglu said in a live television interview a day after talks with Germany's Angela Merkel on the migrant crisis.

 

"I said this to Merkel too. No one should expect Turkey to turn into a concentration camp where all the refugees stay in," he said.

 

The talks had however resulted in a "positive response" to the government's request for visa liberalisation, he said.

 

And in exchange Davutoglu agreed that "illegal immigration should be properly kept under control, therefore we will set up joint mechanisms" to contain the historic flow of Syrians and others escaping conflict, persecution and poverty who use Turkey as a gateway to Europe.

 

"We spoke of three billion euros ($3.4 billion) as 'fresh money' but it is not a fixed sum. Our (financial) needs may increase," he said.

 

Davutoglu insisted the European Union would have to implement its side of the deal before Turkey would play ball.

 

"In the past, the EU got what it wanted, but didn't keep its promises. The visa liberalisation has to take force," he said referring to Turkey's request for visa-free access for Turks to the EU's Schengen zone.

 

"We demanded the abolishment of the Schengen visa (for Turks) and got a positive response. It will happen in July 2016, negotiations are continuing. Things will become clear at the start of the 2016," he said.

 

His comments came as the migrant crisis intensified in Europe, with thousands of people streaming Monday into the Balkans, where tighter border controls caused bottlenecks and forced people to sleep in freezing temperatures.
Ok, so Turkey is "not a concentration camp," and that being the case, some good hearted Europeans are going to have to step up. 
Fortunately, Sweden has lots of citizens who are willing to chip in - even Nazis. Here's The Local:
A man from northern Sweden who has praised Adolf Hitler on Facebook and participated in Nazi demonstrations has answered a call from Sweden's Migration Agency for volunteers willing to offer accommodation to refugees.

 

With Sweden currently taking in record numbers of refugees and even setting up a tent camp to deal with some of the new arrivals, Sweden's Migration Agency (Migrationsverket) recently sent out a nationwide appeal for businesses and residents who may be able to provide shelter as the winter draws in.

 

But according to an investigation by Swedish current affairs publication Expo and local newspaper Västerbotten-kuriren, the government agency has been given an offer by a surprising candidate, who has previously attended pro-Nazi protests and praised Adolf Hitler on social media.

 

The two media have not named the applicant, but describe him as "in his 50s" and write that he has offered to start three different accommodation centres for refugees in Västerbotten in northern Sweden, in which is understood to be his home town.

 

The man, who is understood to run his own business in the area told Expo that he had come round to the idea after being approached by the local officials and discovering that he could profit from the initiative.
So, Turkey wants the world to know that it most certainly is not going to act as a concentration camp for migrants, and Serbia has made similar comments over the past two months.
But in Sweden, there's apparently at least one Nazi who is willing to set up as many as three "accommodation centers" for refugees. 
We'll close by simply saying that there are too many possible punchlines there to pick one winner, but on a more serious note, we would warn (again) about the potential for xenophobia and scapegoating here because it's becoming more clear by the day that there is simply no way that Europe is going to be able to accommodate these people flows without something snapping somewhere.
On the bright side for Sweden, perhaps they, like Germany, will have to issue more debt to accommodate the asylum seekers, giving the Riksbank a convenient way out of the current dilemma whereby the stock of government bonds isn't large enough to allow for more QE without the market breaking.