It's so good to be the cleanest dirty shirt, right? Wrong...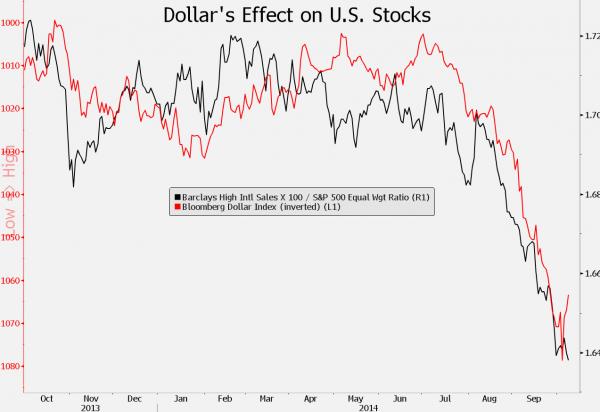 As the dollar has strengthened in recent weeks, so the performance of stocks in the S&P 500 most dependent on overseas revenue has collapsed... and furthermore, a strong dollar implies (all else being equal) a weaker oil price and as is already evident from Energy stocks, likely means significant capital-spending cutbacks among E&P firms...
Not exactly the escape velocity, rates will rise, Fed is only leaving coz things are so awesome, King Dollar meme now is it...
*  *  *
As Barclays previously warned...  it is the root cause of dollar strength that is most important
While the S&P 500 may not be correlated to the dollar and translation may be dismissed as accounting, dollar strength is important, in our opinion, because it is a symptom of decelerating international economic growth. This is particularly true for Europe, which is the second largest market for S&P 500 companies. European growth has continued to slow and our 2014 GDP estimate is now just 0.7%. In addition, deflation remains a concern, with recent inflation readings of just 0.5% and long-term expectations falling below 2%. Outside of Europe, China has slowed, Japan is growing at just 1.1%, and Brazil is grappling with recession.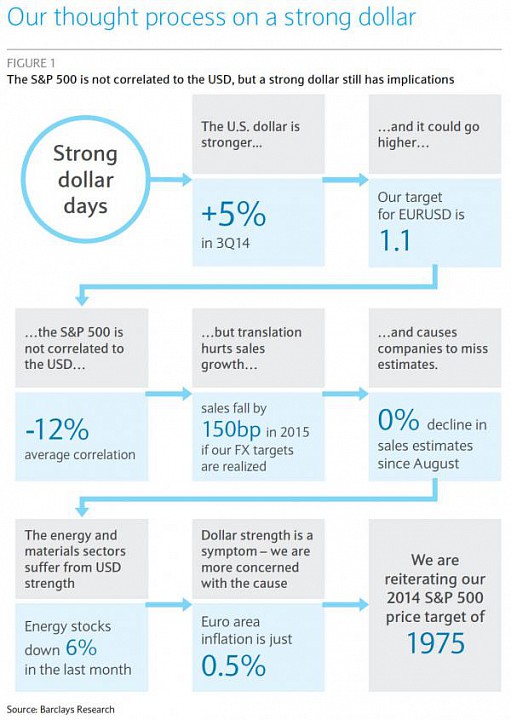 For the S&P 500, which derives upwards of 30% of sales from outside the U.S., decelerating international growth is surely a risk.
Source: Bloomberg