Creating mountains out of mole hills once again, the financial media circus has been peddling rumors and half-truths in the name of "reporting". But for the wise investor that means the opportunity to purchase quality stocks at an amazing discount. Tim Plaehn shares five such stocks that are great purchases right now and that have yields going all the way above 8%.
A recent Wall Street Journal article titled, Oil Up? Oil Down? Blame the Algorithms, points out a problem with financial news and how it affects values. Here is a quote from the article: "An increasing number of market participants are being swayed more by the headlines than by counting physical barrels," said Michael Tran, director of energy strategy at RBC Capital Markets. "A lot of this has been driven by algos and quants."
There are some themes that have been taken by the financial news reporters as facts when the fundamentals continue to strongly contradict those beliefs. The result has been share price declines for stocks that are in industries that would be hurt if these news themes were actually accurate. Investors who have a better grasp of the fundamentals are now in a position to buy undervalued stocks when the hot news themes prove out to be not part of reality. I recommend higher-yield stocks in these sectors, so an attractive income can be earned while waiting for the facts to win out over the fantasies.
Here are those themes, why they are wrong, and some stocks to buy:
The world has too much oil. Consumption is declining, production is too high, the amount of oil in storage is growing so the price of a barrel must drop to $30. Over the last three years, there has been too much oil in storage, and that caused the price of crude to drop into the $20's in early 2016. Now, however, the world is consuming more oil than is being produced.
First, despite the belief electric cars are taking over, global consumption continues to grow. The U.S. Energy Information Agency recently reported that worldwide consumption grew by 1.5 million barrels per day in the 2017 second quarter. This was up from a one million bpd increase in the first quarter. Quietly, the amount of oil in storage has been dropping. This chart highlights the weekly declines in U.S. oil storage. The total drop is over 40 million barrels.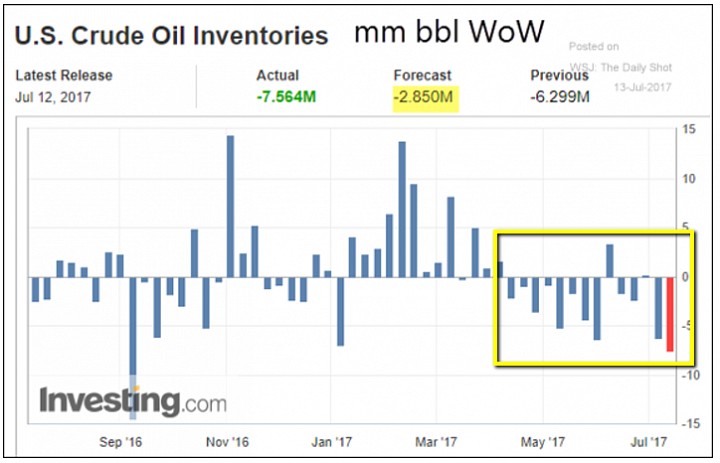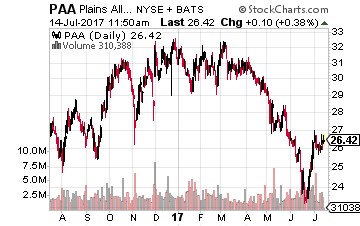 The facts of growing oil consumption, falling oil in storage and record low new production investment over the last two years indicate that soon the market will realize that oil has shifted from surplus to shortage. The price will move strongly higher and U.S. shale producers will be in the driver's seat.
I recommend...
More