Global brewer Molson Coors Brewing Company TAP reported third-quarter 2017 results, wherein both top and bottom lines fell year over year and the former also lagged the Zacks Consensus Estimate. However, earnings came in line with the consensus mark, faring better than its three-quarter long trend of posting negative surprise.
Molson Coors Brewing Company Price, Consensus and EPS Surprise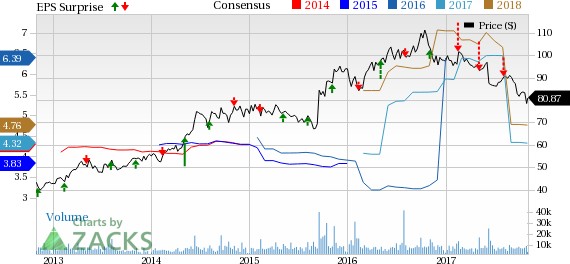 Molson Coors Brewing Company Price, Consensus and EPS Surprise | Molson Coors Brewing Company Quote
While the stock hasn't moved much in the pre-market trading hours, Molson Coors' shares have plunged 15.9% so far this year, as against the industry's growth of 25.1%.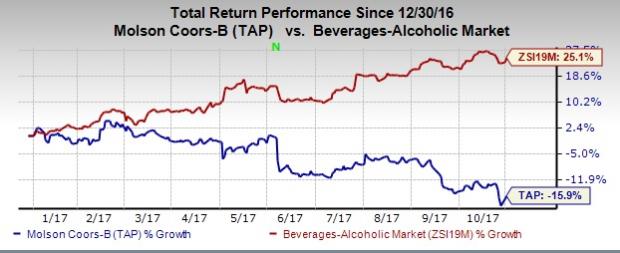 Molson Coors' adjusted earnings of $1.34 per share came in line with the Zacks Consensus Estimate, though it dropped 3.6% from the prior-year figure of $1.39. The decline stemmed from lower financial volumes, increased amortization costs, elevated general and administrative and greater tax rate. This was partly compensated by improved net pricing and mix, reduced interest expense and cost savings.

Delving Deeper

Net sales (on pro-forma basis) dipped 2.1% to $2,883.2 million, which came below the Zacks Consensus Estimate of $3,000 million. The sales decline was accountable to lower financial volumes, partly offset by better global pricing; favorable mix; royalty volume and currency translations. On a constant currency basis, sales dropped 3%. While sales declined in United States, it witnessed improvements in all other regions. Notably net sales per hectoliter improved 2.9%, backed by better pricing and mix.

Molson Coors' worldwide brand volume inched up 0.6% to 25.5 million hectoliters in the quarter driven by robust growth in European and International regions. This in turn was backed by the addition of Miller global brands business as well as improvements in some of the company's key brands. Financial volumes dipped 4.8% to 26.3 million hectoliters, whereas global priority brand volumes jumped 2.4%. Financial volumes were impacted by curtailments in wholesale inventories, brand volumes and contract brewing — which largely weighed upon U.S. and Canadian volumes.

Underlying EBITDA was $679.7 million in the quarter, a slip of 0.4% from the year-ago period. Further, underlying EBITDA on a constant-currency basis went down by 1.2.

Segment Details

The company operates through the following geographical segments.

Canada: Molson Coors Canada net sales climbed 1% to $406.4 million in the quarter. Net sales per hectoliter grew 2% in local currency, driven by better pricing and brand mix. However, Canada brand volume declined 1.7% owing to soft domestic volumes, partly compensated by impacts of Miller brands. Financial volumes (which includes contract brewing volumes) fell 4.7% on account of lower wholesale inventories and soft contract brewing volume. The segment's underlying EBITDA dipped 0.5% to $112.1 million.

United States (MillerCoors): Molson Coors now has complete ownership rights to all the brands in the MillerCoors portfolio for the U.S. market. Segment net sales (on pro-forma basis) decreased 5.5% to $1,892 million in the quarter. Domestic net revenue per hectoliter, which excludes contract brewing and company-owned-distributor sales, improved 1.2%. This stemmed from favorable pricing, partly countered by negative mix. However, both U.S. domestic sales-to-retailers volume (STRs) and domestic sales-to-wholesalers volume (STWs) declined 2.9% and 7.2%, respectively. The former was accountable to soft volumes in Premium Light and Below Premium units. The segment's underlying EBITDA grew 0.8% to $475.6 million thanks to higher net pricing, lower M&A costs and cost savings. This was partly offset by lower shipment volumes.

Europe: The segment reported net sales growth of 9.5% to $561.2 million in the third quarter of 2017. Europe net sales per hectoliter grew 4.1% in local currency driven by positive mix and net pricing. While Europe brand volume increased 9.6% in the quarter, financial volume (including contract brewing and factored brands, excluding royalty volume) went up by 2.7%. Volumes were aided by contributions from Miller brands and strength in the company's main and above-premium brands. Europe underlying EBITDA surged 13.6% to $140.3 million, backed by greater volume, favorable pricing and mix, higher net pension benefit and positive impacts from currency translations.

International: Segment net sales almost doubled to $65.7 million in the quarter. Net sales per hectoliter fell 11.6%, owing to unfavorable sales mix, somewhat cushioned by improved pricing. Total International brand volume soared 64.7% in the quarter, on the back of Puerto Rico's business transfer from MillerCoors, the inclusion of the Miller global brands, and growth of Coors Light, mainly in Latin America. International underlying EBITDA suffered a loss of $1 million in the quarter, narrower than the loss of $1.8 million a year ago. The improvement came on the back of higher volume and better pricing, though it was partly countered by increased M&A costs along with loss of the Japanese Modelo deal.

Other Financial Updates

The company ended the quarter with cash and cash equivalents of $971.3 million and total debt of $12,319 million.

Net cash from operating activities in the first three quarters of 2017 was $1,145.4 million, while underlying free cash flow was $836.4 million.

Outlook

Management remains impressed with its year-to-date results, which is marked by global brand volume growth and higher net sales per hectoliter. Notably, the company's focus on portfolio premiumization has helped it achieve better pricing and mix. Also, in the year so far, Molson Coors' above-premium brands have jumped more than 20%, thus representing about 20% of the company's global volume. Moreover, the company is witnessing enhanced EBITDA margins, thanks to its cost-saving efforts.

Even amid tough North American conditions, this Zacks Rank #3 (Hold) company remains on track to achieve its financial goals for 2017, alongside exceeding its cost savings and cash flow targets for the year. The company still envisions underlying EBITDA margin to rise by 30-60 bps (on an average annual basis) in the next 3 to 4 years. In fact, management expects EBITDA margin to grow in this range this year too.

Further, Molson Coors anticipates generating cost savings of more than $175 million in 2017. Further, it expects to deliver underlying free cash flow of around $1.2 billion in 2017, (plus or minus 10%). Capital spending is now expected to be roughly $650 million, compared with the prior projection of $750 million. Effective tax rate for the year is likely to range from 26-28%, as compared with 24-28% guided earlier.

Don't Miss These Alcohol Stocks

The Boston Beer Company, Inc. SAM with a solid earnings surprise history sports a Zacks Rank #1 (Strong Buy). You can see the complete list of today's Zacks #1 Rank stocks here.

Constellation Brands, Inc. STZ with a long-term earnings per share growth rate of 14.8% carries a Zacks Rank #2 (Buy).

Brown-Forman Corporation BF.B, with the same Zacks Rank as Constellation Brands, has witnessed positive estimate revisions in the past 30 days.

More Stock News: This Is Bigger than the iPhone!

It could become the mother of all technological revolutions. Apple sold a mere 1 billion iPhones in 10 years but a new breakthrough is expected to generate more than 27 billion devices in just 3 years, creating a $1.7 trillion market.

Zacks has just released a Special Report that spotlights this fast-emerging phenomenon and 6 tickers for taking advantage of it. If you don't buy now, you may kick yourself in 2020.

Click here for the 6 trades >>
Want the latest recommendations from Zacks Investment Research? Today, you can download 7 Best Stocks for the Next 30 Days.
Click to get this free report
Brown Forman Corporation (BF.B): Free Stock Analysis Report
Constellation Brands Inc (STZ): Free Stock Analysis Report
Molson Coors Brewing Company (TAP): Free Stock Analysis Report
Boston Beer Company, Inc. (The) (SAM): Free Stock Analysis Report
To read this article on Zacks.com click here.
Zacks Investment Research