Garmin Ltd. GRMN reported better-than-expected second-quarter 2017 results with revenues and earnings surpassing the Zacks Consensus Estimate.
Earnings of 88 cents per share beat the consensus mark by 8.6%. Earnings were up a massive 69.2% sequentially and 1.1% year over year.
The results were driven by solid performance in all the segments. However, Auto, Fitness and Marine segments recorded revenue decline year over year.
Product line expansion remains the top priority for Garmin. In the quarter, the company launched GPS golf watch - Approach S60, marine wearable - quatix 5, 360-degree camera - VIRB 360 and announced new offerings in its Foretrex and Rino portfolio. The company also announced the acquisition of Active Corporation, a developer of crowdsourcing boating platform popularly known as ActiveCaptain.
Management focuses on continued innovation, diversification and market expansion to explore growth opportunities in all business segments. However, macroeconomic challenges remain part of the operating environment. Year to date, shares of Garmin have underperformed the industry it belongs to. While the industry gained 31.4%, the stock returned 14.3%.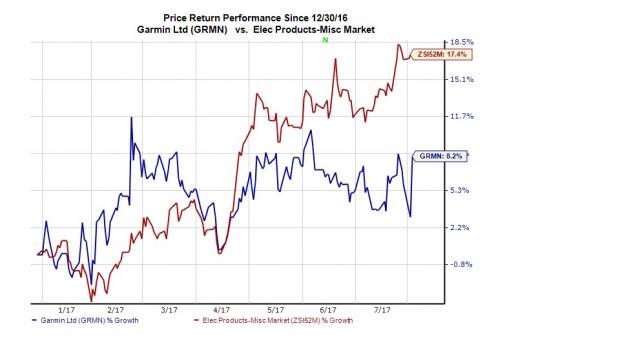 Let's check out the numbers.
Revenues
Garmin's second-quarter revenues of $816.9 million beat the Zacks Consensus Estimate by 1.6% and were up 27.9% sequentially and 0.7% year over year. The year-over-year increase was backed by higher demand across outdoor and aviation segments.
Garmin Ltd. Price, Consensus and EPS Surprise
Revenues by Segment
Garmin's Auto/Mobile, Outdoor, Fitness, Aviation and Marine segments generated 26%, 24%, 22%, 15% and 13% of quarterly revenues, respectively.
Seasonality results in considerable variations in Garmin's quarterly revenues.
The Fitness segment increased 31.3% sequentially but decreased 15% year over year. The year-over-year decline was due to lower volume in basic activity trackers and the timing of product introductions.
Aviation segment revenues were up 1% sequentially and 14.5% year over year. The increase was mainly driven by higher sales of aftermarket products and positive contributions from OEM products.
Outdoor revenues were up a massive 68.1% sequentially and 46.3% year over year, driven mainly by robust demand for its fenix watch series.
The Marine segment increased 3.9% sequentially but decreased 2.7% year over year.
The Auto/Mobile segment was up 32.3% sequentially but down 15.2% on a year-over-year basis. The year-over-year decrease was mainly due to the shrinking of the personal navigation device (PND) market, partially offset by strength in niche categories such as fleet, camera and RV.
Revenues by Geography
While America generated 48% (up 21.2% sequentially but down 4.6% year over year) of total revenue, EMEA and APAC contributed 39% (up 38.9% sequentially and 1.7% year over year) and 14% (up 24.2% sequentially and 19.9% year over year), respectively.
Operating Results
Gross margin was 58.5%, up 22 basis points (bps) sequentially and 146 bps year over year. Stronger demand drove volumes across all segments except Auto, pulling up segment gross margins on a year-over-year basis.
Operating expenses of $274.5 million were up 4.7% from 2.3 million in the year-ago quarter. Operating margin of 24.9% was up just 17 bps year over year due to a decrease in operating expenses.
GAAP net income was $171 million or 91 cents per share compared with $161.1 million or 85 cents per share a year ago.
On a pro-forma basis, excluding foreign currency effects net of tax, Garmin reported net income of $166.4 million compared with the year-ago figure of $165.6 million.
Balance Sheet
Inventories were down 1.5% sequentially to $525.2 million. Cash and marketable securities were approximately $1.11 billion compared with $1.09 billion in the previous quarter.
The company has no long-term debt.
As of Jul 1, the company generated cash flow of $263.8 million from operating activities. Moreover, it spent about $191.7 million on dividends and approximately $64 million on share repurchases. The company has $11 million remaining under the share repurchase program extended through Dec 31, 2017.
2017 Guidance
The company raised its guidance for full-year 2017. Management expects revenues of $3.04 billion compared with the prior expectation of $3.02 billion, and pro-forma earnings of $2.80 per share compared with $2.65 per share expected earlier. Currently, the Zacks Consensus Estimate for revenues and earnings for 2017 is pegged at $3.01 billion and $2.85 per share, respectively.
Zacks Rank and Stocks to Consider
Garmin currently has a Zacks Rank #3 (Hold). Better-ranked stocks in the broader technology sector include Alibaba BABA, Lam Research Corp. LRCX and MaxLinear MXL, each sporting a Zacks Rank #1 (Strong Buy). You can see the complete list of today's Zacks #1 Rank stocks here.
Long-term expected earnings per share growth rate for Alibaba, Lam Research and MaxLinear are projected to be 29%, 17.2% and 17.5%, respectively.
More Stock News: Tech Opportunity Worth $386 Billion in 2017
From driverless cars to artificial intelligence, we've seen an unsurpassed growth of high-tech products in recent months. Yesterday's science-fiction is becoming today's reality. Despite all the innovation, there is a single component no tech company can survive without. Demand for this critical device will reach $387 billion this year alone, and it's likely to grow even faster in the future.
Zacks has released a brand-new Special Report to help you take advantage of this exciting investment opportunity. Most importantly, it reveals 4 stocks with massive profit potential. See these stocks now>>.
Want the latest recommendations from Zacks Investment Research? Today, you can download 7 Best Stocks for the Next 30 Days.
Click to get this free report
Alibaba Group Holding Limited (BABA): Free Stock Analysis Report
Garmin Ltd. (GRMN): Free Stock Analysis Report
MaxLinear, Inc (MXL): Free Stock Analysis Report
Lam Research Corporation (LRCX): Free Stock Analysis Report
To read this article on Zacks.com click here.
Zacks Investment Research