If yesterday's strong 2 Year bond auction confirmed that there was not a hawkish cloud on the bond market's horizon, then today's just concluded 5 Year bond auction doubled down on the strength of the short-end, when moments ago the Treasury sold $35 billion in 5 year paper at a yield of 1.480%, stopping 0.3 bps through the 1.483% when issued. The Bid to Cover of 2.54 also posted a modest increase to last month's 2.49, if a below the TTM average of 2.71. The internals were also in line, with Directs getting 7.5%, Indirects a far stronger than average 60.1%, and Dealers left holding 32.4% of the auction.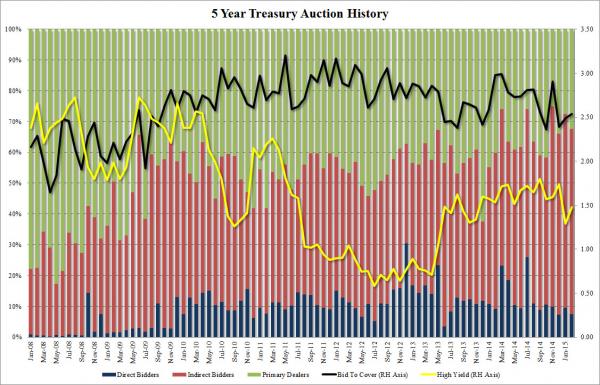 And with the auction behind us, the question now whether the surge in the short interest ahead of both the 2 Year and 5 Year auction, as confirmed by the collapse of repo rates, with both the 2 Year and the 5 Year trading super special in the past few days...
... will once again book losses and admit that this, yet again, is not the inflection point, launching the latest short-end short covering rally?