Despite the ubiquitous v-shaped recovery in stocks from the US open to EU close (decoupling entirely from bonds), stocks slumped into the end of the quarter leaving the S&P and Dow barely positive for Q3 and Russell 2000 down 7.9% - its worst quarter since Q2 2011 (and -5.2% year-to-date). Treasury yields flip-flopped around in a 4-5bps range with a late-day ramp (suggesting liquidations cough PIMCO cough) leaving 30Y -1bps on the week. The USDollar suged higher in the European session and traded lower in the US session. The bigger news on the day was the carnage in commodities that appeared to occur around the European close (desk chatter of commodity fund liquidations). Silver and WTI Crude were monkey-hammered, gold and copper dropped to down 1% on the week. VIX pumped and dumped again but closed above 16. Stocks closed very weak with Russell tumbling 1.5% on the day to not "off the lows."
Year-to-date, bonds are the big winners (long-end +14.2%) with the Dollar and S&P up around 6.7%, Gold unch, and Silver -12.7%.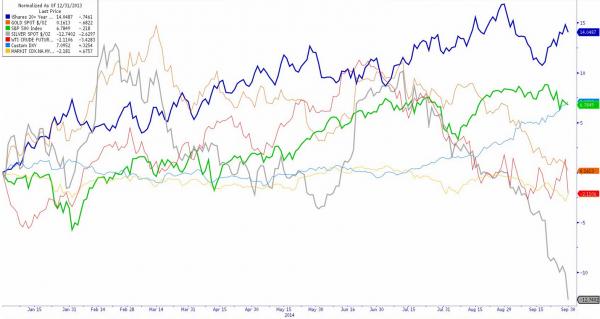 On the quarter, Russell 2000 is the big loser but it was hardly a big one for the rest of the US equity market... (woirst Quarter for S&P since Q4 2012)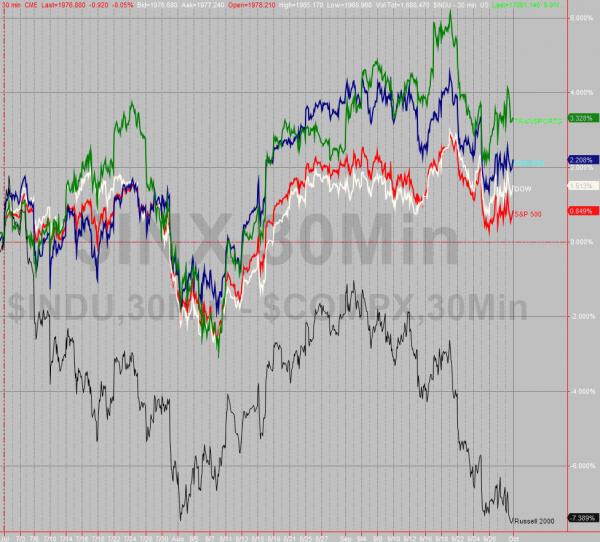 30Y bonds massively outperformed in Q3 (while 5Y drastially underperformed) with a 30bps flattening in 5s30s over the quarter...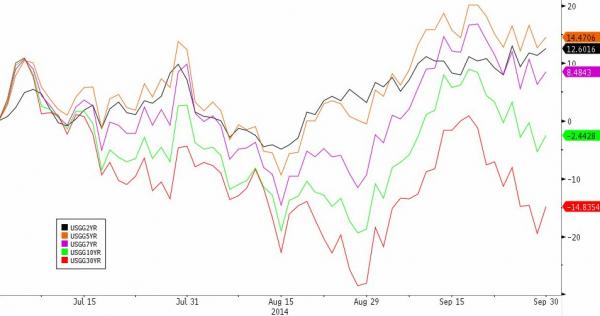 And High Yield credit notably underperformed and decoupled from stocks...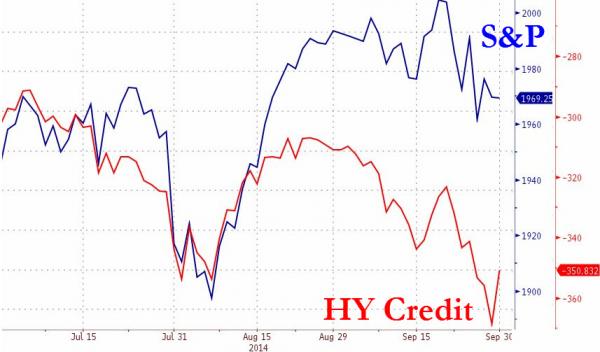 Especially notable in financials...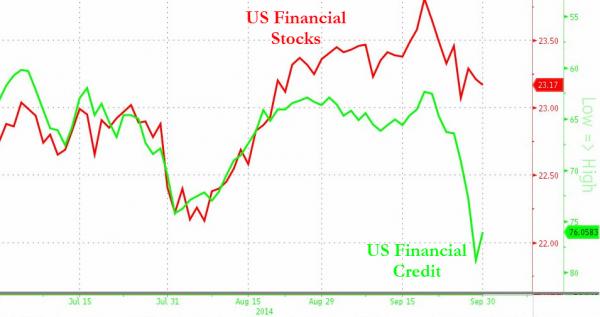 The USD surged on the quarter... a oneway street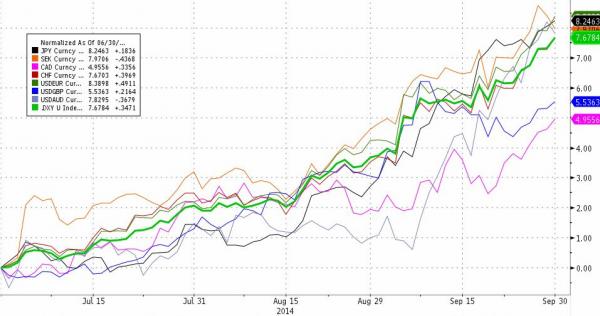 Commodities all slid, led by Silver...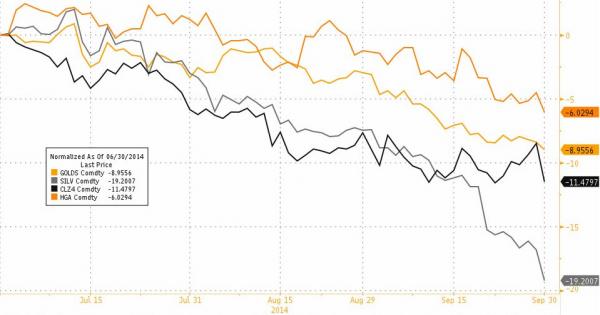 *  *  *
On the day, Equities followed yesterday's playbook pivoiting around the European close but closed very weak today...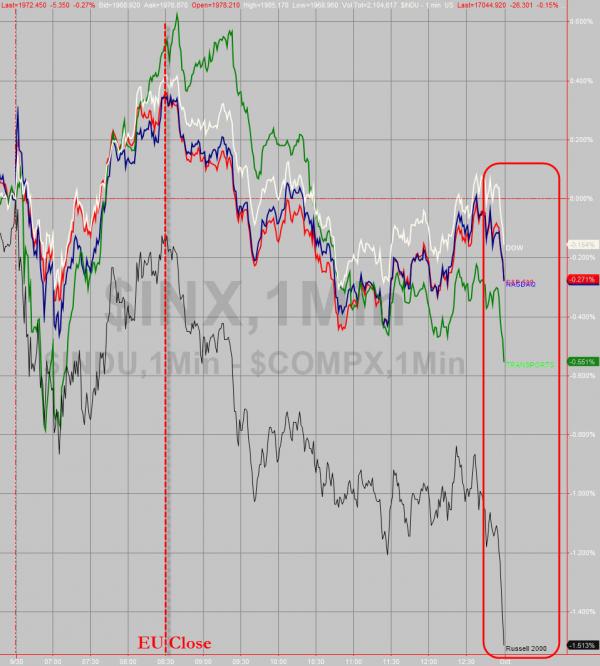 Stocks decoupled from bonds once again out of the gate... and then bonds and stocks weakened late on..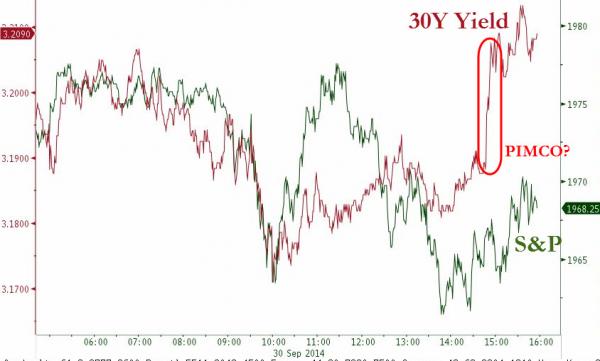 USDJPY seemed modestly in control...
Treasury yields chopped around today closing higher on the day...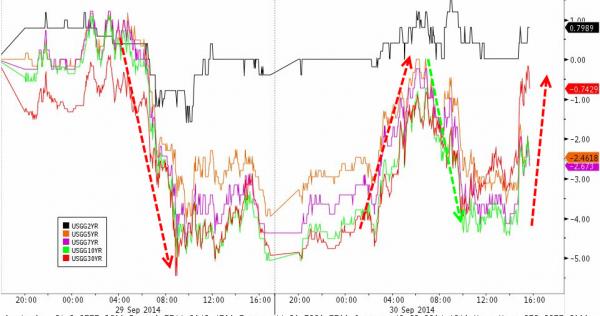 FX markets once again saw USD buying in Europe and EUR buying in US...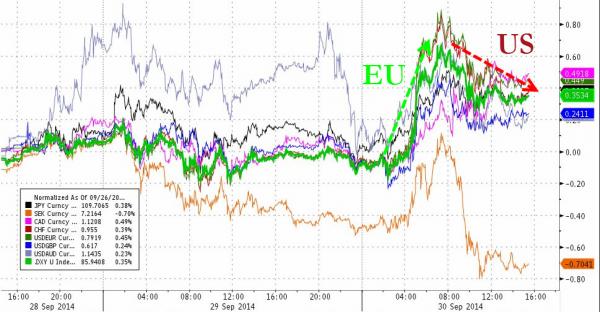 Commodities on the day were monkey-hammered from the US open to EU close...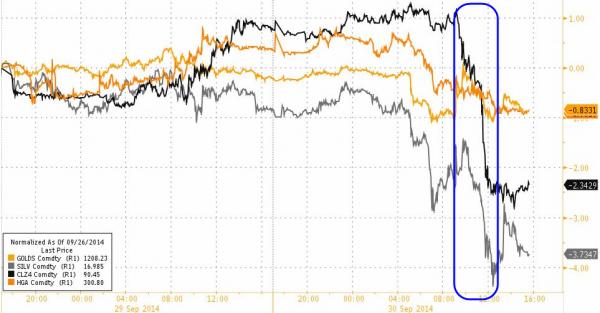 Charts: Bloomberg