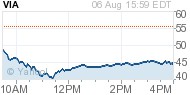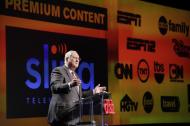 LOS ANGELES (AP) -- Signs that pay TV's pricy bundles of channels are starting to unravel are starting to take a toll on major media companies.
Media stocks were hammered for a second day Thursday as Viacom's underwhelming earnings gave investors another reason to sell, after industry bellwether Disney earlier in the week trimmed a profit outlook due to more people cutting the cord on pay-TV packages.
While there have long been signs consumers love online video distributors like Netflix, Hulu and Amazon, it's the first time that signs of trouble for the traditional cable and satellite TV business have sent such a powerful shudder through the stock market.
Disney's stock is down 14 percent since Tuesday, when it reported that it was trimming its forecast for TV subscriber-fee profit growth through next year because of subscriber losses at its flagship ESPN sports network.
Over two days, Viacom is down 22 percent, Time Warner is off 13 percent, CBS has shed 7 percent and Discovery Communications is down 11 percent. Twenty-First Century Fox is down nearly 13 percent.
"Questions around the death of pay TV are now front and center even if the size and pace of declines are likely being overstated by press and Street...
More