Retail giant Wal-Mart Stores Inc. WMT, is set to report second-quarter fiscal 2018 results before the opening bell on Aug 17. The question lingering in investors' minds is, whether the company will be able to maintain its positive earnings surprise streak in the to-be-reported quarter. In fact, the company has outpaced the Zacks Consensus Estimate in each of the trailing four quarters, with an average of 2.98%.
Let's delve deeper how things are shaping up for this announcement.
What Does the Zacks Model Unveil?
Our proven model shows that Wal-Mart is likely to beat earnings because it has the right combination of two key ingredients.
Zacks Earnings ESP: Earnings ESP, which represents the difference between the Most Accurate estimate and the Zacks Consensus Estimate, is +0.94%.This is because the Most Accurate estimate is $1.07, while the Zacks Consensus Estimate is pegged lower at $1.08 per share. This is very meaningful and a leading indicator of a likely positive earnings surprise for shares. You may uncover the best stocks to buy or sell before they're reported with our Earnings ESP Filter.
Zacks Rank: Wal-Mart currently carries a Zacks Rank #2 (Buy). Note that stocks with Zacks Ranks #1 (Strong Buy), 2 or 3 (Hold) have a significantly higher chance of beating earnings. Conversely, Sell-rated stocks (#4 and 5) should never be considered going into an earnings announcement.
The combination of Wal-Mart's Zacks Rank #2 and an Earnings ESP of +0.94% makes us optimistic about a possible earnings beat.
Which Way are Estimates Treading?
Let's look at earnings estimate revisions in order to get a clear picture of what analysts are thinking about the company right before the earnings release. The current Zacks Consensus Estimate for the quarter under review inched up 0.9% over the last seven days and is currently pegged at $1.07 per share, down 0.47% from the year-ago quarter. For fiscal 2017, the Zacks Consensus Estimate has remained unchanged over the last seven days and is pegged at $4.36 per share, up 0.99% from the prior-year quarter. Analysts polled by Zacks expect revenues of $122.80 billion and $495.57 billion for the second quarter and fiscal 2018, up 1.61% and 2.00% from the year-ago period.
Wal-Mart Stores, Inc. Price, Consensus and EPS Surprise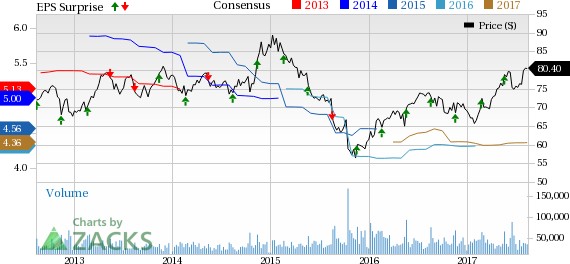 Wal-Mart Stores, Inc. Price, Consensus and EPS Surprise | Wal-Mart Stores, Inc. Quote
Factors Influencing the Quarter
Wal-Mart has been striving to understand the evolving needs of customers to regain their confidence and boost sales. It has delivered positive comps in the U.S. in the last 11 quarters. Moreover, traffic improved for the 10th consecutive quarter on the back of the company's efforts to modernize stores for higher footfall and improvement in consumer spending. The company continues to expect positive comps year over year at Wal-Mart U.S. in fiscal 2018. For the 13-week period ending Jul 28, Wal-Mart expects U.S. comp sales growth in the range of 1.5−2.0%. Sam's Club comp sales, without the impact of fuel sales, are expected to increase 1–1.5%. The company expects adjusted earnings in the range of $1.00–$1.08 per share.
Wal-Mart is also making huge investments in e-Commerce initiatives, including acquisitions. The company's acquisition of four e-Commerce businesses since the Jet.com acquisition (in Sep 2016) is in line with the Wal-Mart's efforts to grow its online activities. Most recently, the brick-and-mortar retail giant is reportedly in talks to acquire online cosmetics startup Birchbox, continuing the company's hunger to build an impressive digital brand portfolio to take on Amazon.com, Inc. AMZN. If the deal materializes, it would mark the retailer's fifth e-Commerce acquisition since Jet.com. Apart from acquisitions, the Bentonville, AR-based company is also offering free two-day shipping, same-day store Pickup and online grocery pickup services at multiple locations across the country.
While Wal-Mart posted positive earnings streak for the seventh consecutive quarter, unfavorable currency, decline in international revenues, stiff competition from both brick and mortar and online retailers and huge investments in e-Commerce activities leading to margin pressure.
We also note that Wal-Mart's stock price history reveals that the company has been performing well, driven by positive initiatives taken by the company to boost sales. In fact, over the last six months, shares of this retail giant have moved up 17.1%, higher than the industry, which showcased growth of 11.6%. In fact, the company has also outpaced the broader Retail-Wholesale sector's growth of 9.7% over the same time frame.

Stocks with Favorable Combination
Stocks in the broader retail sector carrying both a positive Earnings ESP and a favorable Zacks Rank, and therefore also worth considering are:
Big Lots, Inc. BIG has an Earnings ESP of +6.56% and carries a Zacks Rank #2. You can see the complete list of today's Zacks #1 Rank stocks here.
Sally Beauty Holdings, Inc. SBH has an Earnings ESP of +2.13% and carries a Zacks Rank #2.
5 Trades Could Profit ""Big-League"" from Trump Policies
If the stocks above spark your interest, wait until you look into companies primed to make substantial gains from Washington's changing course.
Today Zacks reveals 5 tickers that could benefit from new trends like streamlined drug approvals, tariffs, lower taxes, higher interest rates, and spending surges in defense and infrastructure. See these buy recommendations now >>
Want the latest recommendations from Zacks Investment Research? Today, you can download 7 Best Stocks for the Next 30 Days.
Click to get this free report
Amazon.com, Inc. (AMZN): Free Stock Analysis Report
Wal-Mart Stores, Inc. (WMT): Free Stock Analysis Report
Big Lots, Inc. (BIG): Free Stock Analysis Report
Sally Beauty Holdings, Inc. (SBH): Free Stock Analysis Report
To read this article on Zacks.com click here.
Zacks Investment Research