Array BioPharma ARRY announced that it has submitted two new drug applications (NDAs) to FDA, seeking approval for the combination of binimetinib and encorafenib to treat patients with BRAF-mutant advanced, unresectable or metastatic melanoma.

Notably, both binimetinib and encorafenib are Array BioPharma's pipeline candidates, which are yet to gain approval.

Shares of Array have increased over 3% in after-hours trading on Wednesday. However, the company's shares have underperformed the Zacks classified Medical-Biomed/Genetics industry so far this year. The stock has gained 2.3% compared with the broader industry's increase of 8.1%.





The NDA submissions were supported by an encouraging data from phase III COLUMBUS study (n=1577), conducted in two parts. In Sep 2016, the company had announced a positive top-line data from part 1 of the phase III study.

Results from this study showed that the combination (COMBO450) of (45 mg twice daily) and encorafenib (450 mg once daily) have significantly improved the progression-free survival (PFS) in comparison to Roche Holding AG's RHHBY Zelboraf (vemurafenib), thus meeting the primary endpoint. Additionally, the combo therapy was generally well-tolerated and all adverse events were consistent with previous trials.

In May 2017, the company had further revealed a positive data from part 2 of the COLUMBUS study, which was specifically designed to evaluate the given combination (COMBO300) by reducing encorafenib's dose to 300mg compared with its lower dosage.

The median PFS for patients treated with COMBO300 was 12.9 months compared with the 9.2 months for patients treated with single agent encorafenib. This fusion was also endured well during the study.

Apart from melanoma, the encorafenib-binimetinib blend is also being evaluated in patients with advanced cancer. Currently, Array is evaluating encorafenib, in amalgamation with Eli Lilly and Company's LLY Erbitux (cetuximab), with or without binimetinib, in the phase III BEACON CRC study in patients with BRAF V600E-mutant colorectal cancer. This experimental trial is being pefromed under a Special Protocol Assessment (SPA) with the FDA. Patient enrollment for the same is expected to be complete in 2018.

We remind investors that Array has regained development and commercialization rights to binimetinib from Novartis Pharma AG (NVS) in Mar 2015.

It is important to note that Pierre Fabre Medicament SAS French pharmaceutical company currently holds the right to commercialize binimetinib and encorafenib in Europe, Asia and Latin America. While on the other hand, Array retains exclusive rights to commercialize both the drugs in key markets including the U.S., Canada and Israel. Again, Ono Pharmaceutical possesses exclusive rights for the products across Japan and South Korea.

Per the company's press release, around 200,000 new cases of melanoma are diagnosed each year globally. Of this, approximately 50% have BRAF mutations, a key target in treatment of metastatic melanoma. Hence, approval of the combination therapy will provide the company an access to a market with huge potential.
Array BioPharma Inc. Price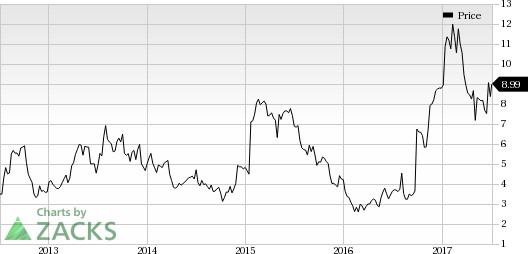 Zacks Rank & Key Picks
Array currently carries a Zacks Rank #3 (Hold). A better-ranked stock in healthcare sector is Bayer AG BAYRY, sporting a Zacks Rank #1 (Strong Buy). You can see the complete list of today's Zacks #1 Rank stocks here.
Bayer's earnings per share estimates have inched up from $8.85 to $8.93 for 2017 and from $9.53 to $9.61 for 2018, over the last 30 days. The company has delivered positive earnings surprises in three of the four trailing quarters with an average beat of 10.25%. Shares of Bayer have soared 22.6% so far this year.
Today's Stocks from Zacks' Hottest Strategies
It's hard to believe, even for us at Zacks. But while the market gained +18.8% from 2016 - Q1 2017, our top stock-picking screens have returned +157.0%, +128.0%, +97.8%, +94.7%, and +90.2% respectively.
And this outperformance has not just been a recent phenomenon. Over the years it has been remarkably consistent. From 2000 - Q1 2017, the composite yearly average gain for these strategies has beaten the market more than 11X over. Maybe even more remarkable is the fact that we're willing to share their latest stocks with you without cost or obligation. See Them Free>>
Want the latest recommendations from Zacks Investment Research? Today, you can download 7 Best Stocks for the Next 30 Days.
Click to get this free report
Roche Holding AG (RHHBY): Free Stock Analysis Report
Eli Lilly and Company (LLY): Free Stock Analysis Report
Bayer AG (BAYRY): Free Stock Analysis Report
Array BioPharma Inc. (ARRY): Free Stock Analysis Report
To read this article on Zacks.com click here.
Zacks Investment Research