The slide from almost 760 to 385 basically took away 50% of Chipotle's market capital. Is it time to re-invest in this growing fast casual restaurant? Let's take a look at the technical perspective:
Chipotle Weekly Chart 8/25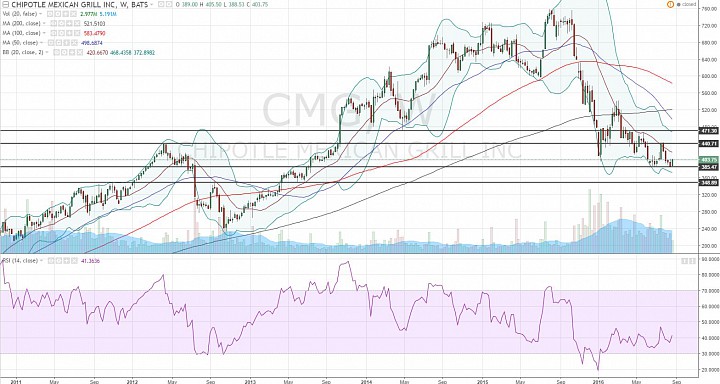 (click to enlarge)
Still bearish, but...
- When we look at the weekly chart, we can say that price is still bearish as it trades under the 200-, 100-, and 50-week simple moving averages (SMAs).
- However, we are starting to see signs of a price bottom. 
- The fact that price held above 385 in August suggests that we could be seeing a price bottom here.
- There is also a bullish divergence building between price and the RSI. 
- If this 385 support fails, then I would anticipate further bearish correction towards 350. 

Limited upside:
- If we anticipate a bullish outlook, it should be tempered because after all, the prevailing trend was bearish.
- If price does return to 440, we would have a double bottom scenario, but only if price can break above 440.
- A rally to 440 would still be within the context of an overall bearish market. 
- So for now, let's say CMG has a potential upside of about 10%, with the potential of finally bottoming in the medium-term.
- Let's not call it a bullish reversal until price at least breaks above 440.