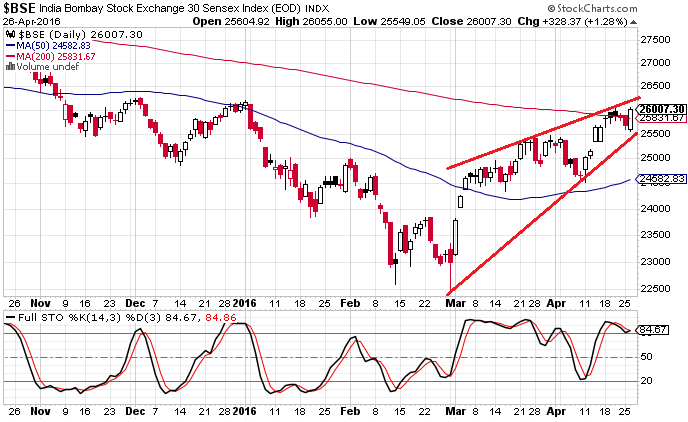 On Wednesday, April 27, India's stock indexes moved slightly higher amid expectations of the outcome of Fed and BoJ meetings. Over 50% of the polled experts say that the Bank of Japan is likely to introduce fresh stimulus at this meeting. Meanwhile, there is only a 3% probability the US regulator will tighten its monetary policy, according to analysts.
The Nifty 50 ticked up 0.22% to 7,979.90, while the BSE Sensex 30 climbed 0.22% to 26,064.12.
On the Nifty 50, AXISBank,ICICIBankandState BankofIndia underperformed the market, each losing over 2.3%. Adani,Bharti Airteland Oil & Natural Gas topped the advancers, each rising 3.4%.
Among the BSE Sensex 30 components, AXISBank,ICICIBankandSBI led the decliners, while BhartiAirtelи Oil & Natural Gas andGail paced the gains.
On the currency market, USD/INR edged down 0.05% to 66.436, while EUR/INR increased 0.13% to 75.118. The 10-yearbondyieldstood at 7.46%.
Axis Bank dipped 2.98%. The lender's Q4 profit came in at INR 21.5 bn vs. the median consensus of INR 23.3 bn.
India's largest mobile carrier by subscriber base Bharti Airtel added 3.36%. Analysts expect the company to report net profit of INR 12.3 bn in the fourth quarter.
Carmaker Maruti Suzuki India eased 0.36% after hitting a two-month high earlier. Meanwhile, Oil & Natural Gas jumped 3.43%, retracing to a high set on February 1.
The banking sector came under pressure. ICICIBankandState BankofIndia each retreated over 2.5%.
India's leading hydropower generation company NHPC sank 6% on news the Indian government sold an 11.36% stake in the company for INR 28 bn.
Technically, a rising wedge is taking shape on the chart. The price is near its upper end around 26,100. Stochastic lines are in overbought territory, and the index may break out of this pattern to the downside.