One look at YHOO stock and one wonders just what is the creative way that the market, if not Gene Munster of course with his upgrade last night from $4 to $48,  believes Marissa Mayer will create several billion in value. Negative value that is.
Why several billion? Because when one strips out the 22.6% stake YHOO owns in Alibaba at its current market cap, the net value one gets is just shy of negative $10 billion.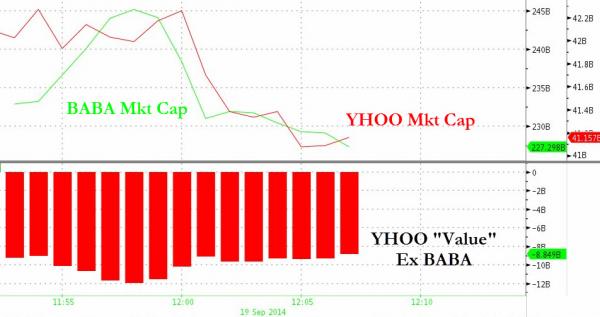 Yes, we know that YHOO will actially pocket some $8.3 billion from the IPO proceeds at the $68 IPO price (thus lowering its EV), and yes, we know it will be left with "only" 16.3% of BABA after said transfer, but we also do not account for Yahoo's stake in Yahoo Japan, all of which should roughly wash out.
Which means that as of this moment, the value of YHOO has never been lower, as in more negative.
Finally, not helping matters is that BABA longs are actually using YHOO as a short to hedge their long exposure.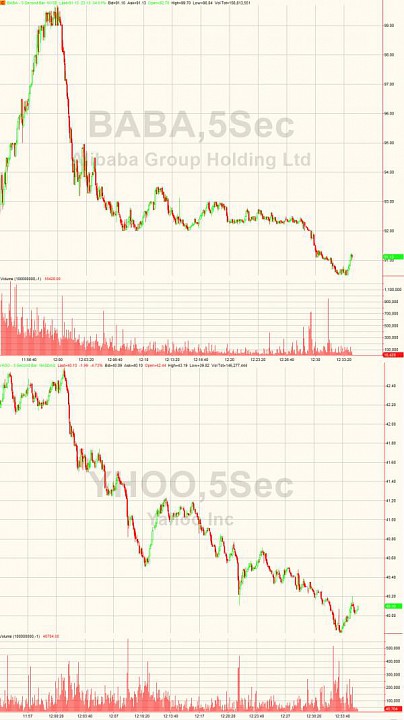 Which makes us wonder: just which magazine will Marissa Mayer pick for her next photo centerfold? Because after all, when faced with record value destruction, the only option is, well, distraction.