Chipotle shares are tumbling after Business Insider reports the firm has shut down a restaurant in Sterling, Virginia, after multiple reports of customers getting sick after eating there.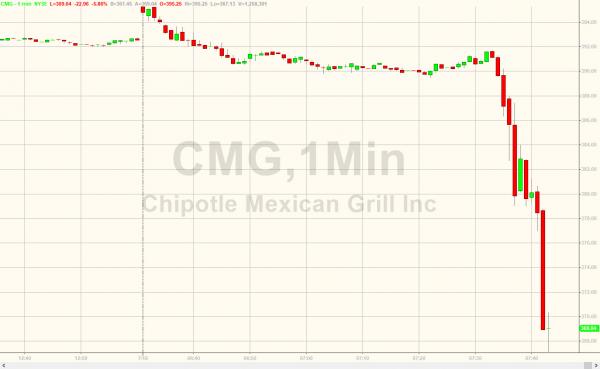 As BI reports, customers reported symptoms such as vomiting, diarrhea, severe stomach pain, dehydration, and nausea to the website iwaspoisoned.com, which first alerted Business Insider to the issues at the Sterling restaurant. One person reported two hospitalizations as a result of the illnesses.
In total, eight reports were made to the website, indicating that at least 13 customers fell sick after eating there from July 14-15.
Chipotle told Business Insider that it is aware of the illnesses and has notified local health officials.
"We are working with health authorities to understand what the cause may be and to resolve the situation as quickly as possible," Jim Marsden, Chipotle's executive director of food safety, said.

"The reported symptoms are consistent with norovirus. Norovirus does not come from our food supply, and it is safe to eat at Chipotle."