Breakout: The EUR/USD has broken below some key support factors around the 1.2680-1.27 area. They involved a moving average, a rising trendline, and a previous resistance pivot, while the RSI broke below 40, showing loss of October's bullish momentum.

EUR/USD 4H Chart 10/23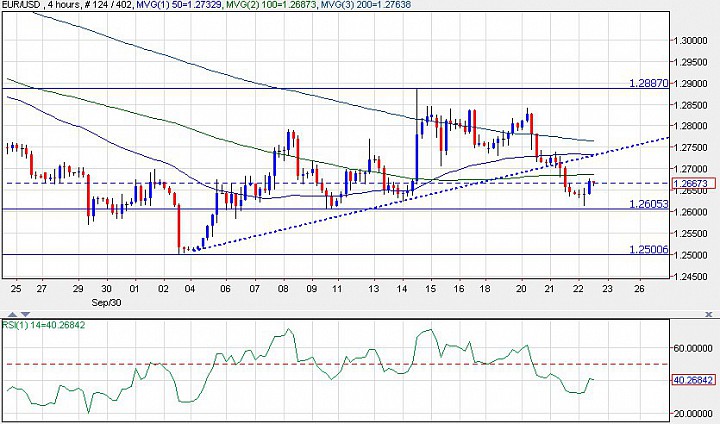 (click to enlarge)

Pullback: There is a hold above 1.26, which was expected because there were some support pivots around this area. 

We should monitor how this rally attempt reacts if it approaches the 1.2750 area. We should see sellers here because it is a previous support/resistance area, and is in the middle of the SMA cluster, close to the 200-period SMA. 

Outlook: If the market has indeed revived the downtrend, we might even see sellers around 1.27 during today's 10/23 US session.

A break above 1.2770 or so might invalidate the bearish continuation signal suggest further consolidation/bullish correction. IN this scenario, there will be upside risk to 1.2887 up to 1.29 and even beyond, say to 1.30. 

For now, the pressure is toward the 1.25 low with further downside risk because the prevailing downtrend since May has been intact.