With homebuilder sentiment slipping,blamed on the weather (despite improvement in the Northeast), Architecture billings down, and lumber prices down, it should not be totally surprising that existing home sales collapsed in January (-4.9% against expectations of -1.8% to a worse than expected 4.82 million SAAR). This is the lowest existing home sales since April. Oh - and before the talking heads blame the weather - the biggest drop in home sales was in The West (with its warm, dry, sunny home-buying climate). Considering that existing home sales most recent peak in 2014 failed to take out the previous government-sponsored peak in 2013 and remains 30% or more below the 2005 peak, and claims that the housing recovery is in tact are greatly exaggerated.
Lower highs and the weakest sales since April 2014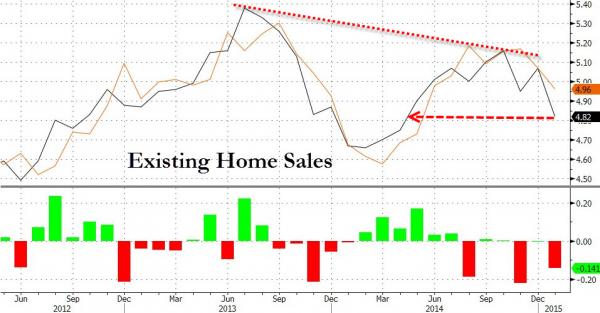 So we can;t blame the weather... but Lawrence Yun, NAR chief economist, says the housing market got off to a somewhat disappointing start to begin the year with January closings down throughout the country.
"January housing data can be volatile because of seasonal influences, but low housing supply and the ongoing rise in home prices above the pace of inflation appeared to slow sales despite interest rates remaining near historic lows," he said.

 

"Realtors are reporting that low rates are attracting potential buyers, but the lack of new and affordable listings is leading some to delay decisions."
Charts: Bloomberg