It was clear there was some significant pent-up demand for Tesla Motors' (NASDAQ:TSLA) Model 3 before it was even unveiled. On the morning of the event, when the electric-car maker began accepting deposit-backed reservations for the vehicle, lines of hundreds of customers had formed at Tesla stores as they tried to get their order early in the queue. And before Tesla had showed the 3's design that night, the company had already garnered around 100,000 orders.
Amid all the hype, you can bet I was ready to get in the vehicle and take it for a spin when the company offered event attendees test rides. While Model 3 was still clearly a prototype, with a number of tweaks undoubtedly to come, the electric car didn't disappoint.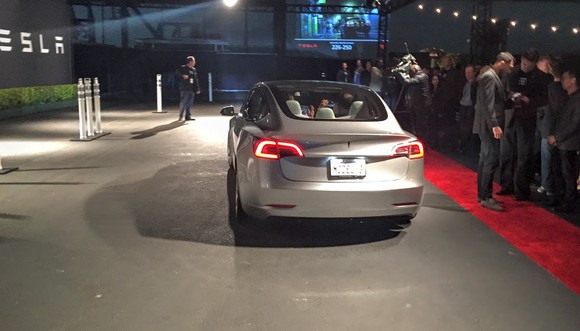 Here are three takeaways from my test ride.
1. Performance is stellar. Despite being half the price of its Model S, the Model 3 didn't seem to compromise on performance.
"At Tesla, we don't make slow cars," Musk said during the event unveiling. "And, of course, there will be versions of the Model 3 that go much faster."
Model 3's acceleration was incredible -- true to the sporty instant torque of its Model S and X. Off the line, I was sucked back into the seat.
Seeming to be a bit faster than the base version of Model S, I suspected the Model 3 prototype could have been a dual-motor version of the Model 3. I later learned from one of Musk's tweets after the event that it was. Fortunately, however, Tesla says it won't cost the same additional $5,000 it costs to add dual-motor...
More