Update: NATIONAL WEATHER SERVICE CANCELS TORNADO WARNING ISSUED FOR WASHINGTON D.C., SAYS STORM WEAKENED
* * *
What could top a bizarro day like today? Why, a tornado touching down by the White House of course.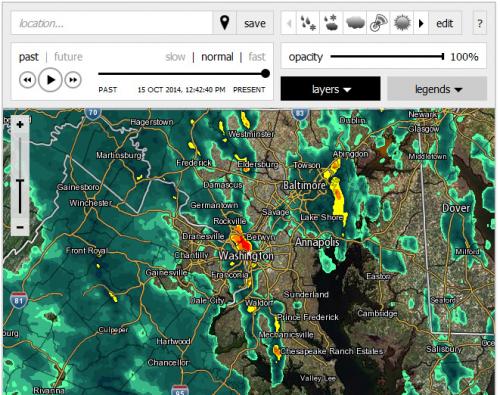 A tornado warning has been issued for the D.C. area through 1 p.m. Wednesday.

 

The warning comes on a day of heavy rain for much of the D.C. area., which began battering Northern Virginia early Wednesday and has raced north, arriving inside the Beltway at midday.

 

A flood watch began at 10 a.m. Wednesday, and will remain in effect into the evening hours for portions of Maryland, D.C. and Northern Virginia.  More than an inch of rain had already fallen in some areas by midday.

 

Storm Team 4 Meteorologist Chuck Bell is warning drivers to stay off the roads when the rain is heaviest.

 

A tornado warning issued for Warren, Frederick and Clarke counties in Virginia expired at 6:45 a.m.
Coming soon: the Ebolanado. In other news, no golf this afternoon.