Following last night's epic inventory build., according to API, DOE has reported a 4.7mmmbarrel build but US crude production pluinged 1.4% (most since July). However, ths oil complexc has been hit by two other 'issues' this morning as Obama captures the votes he needs to confirm the Iran nuclear deal (guaranteeing more oil supply) and China encumbers more Venezuelan oil ($5bn loan) allowing them to keep pumping at below-cost levels. The reaction for now is notable selling pressure...
Inventory Build..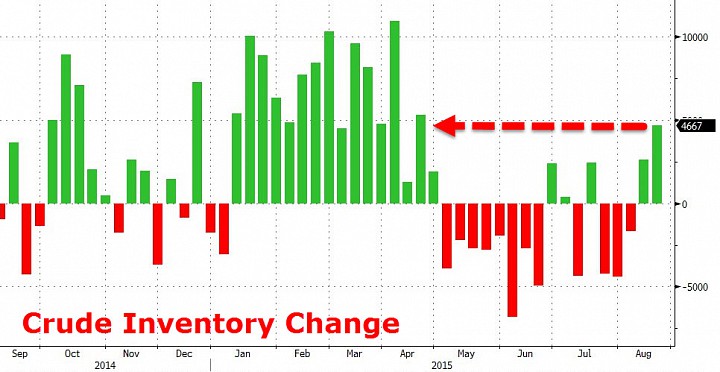 The Obama administration will be jubilant this morning as it appears they have captured enough votes to confirm the Iran-nuclear deal...
*OBAMA HAS ENOUGH U.S. SENATE SUPPORT TO UPHOLD IRAN DEAL
Sen. Barbara Mikulski, a Maryland Democrat, said Wednesday she supports the nuclear deal with Iran, giving the agreement enough votes to be upheld in the Senate. She becomes the 34th Democrat to back the deal, the magic number to sustain a veto.
Of course, that confirms the Iran oil supply is coming.
And then there is last night's China-Veneuela "cash-for-oil" loan which allows VENZ to keep producing at below cost.
*  *  *
The reaction to all this...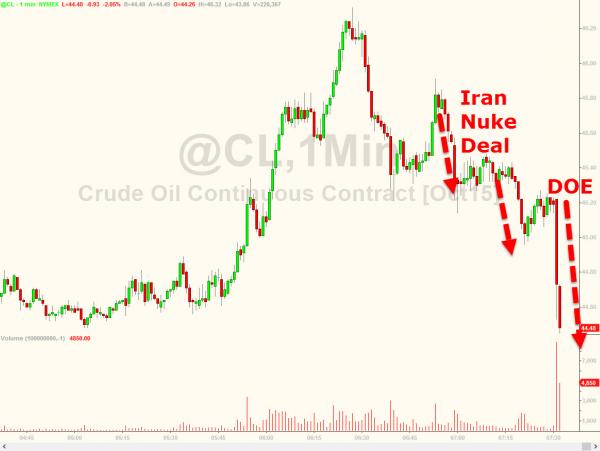 Even as production drops...
Charts: Bloomberg