Marvell Technology (MRVL) CEO Sutardja, President Dai Resign from Roles
(streetinsider.com)
Marvell Technology Group Ltd. (NASDAQ: MRVL) announced the departure of Chief Executive Officer Sehat Sutardja and President Weili Dai from their management positions, effective immediately. Dr. Sutardja and Ms. Dai will remain on the Board of Directors, with Dr. Sutardja continuing as Chairman. The Board, in conjunction with a leading executive search firm, will conduct a search for a new CEO and President.
The Board has formed an Interim Office of the Chief Executive to oversee day-to-day leadership of the Company's operations. The Interim Office of the Chief Executive will be headed by Ms. Maya Strelar-Migotti, Executive Vice President, Smart Networked Devices and Solutions (SNDS) Business Group and Dr. Pantelis Alexopoulos, Executive Vice President of the Storage Business Group, as Interim Co-Chief Executive Officers. Each has the authority to exercise all powers of the Chief Executive Officer.
The other members of the Interim Office of the Chief Executive include Dr. Zining Wu, Chief Technology Officer; Mr. David Eichler, Interim Chief Financial Officer; Mr. Tom Savage, Senior Vice President and General Counsel; and Mr. William Valle, Vice President, Global Human Resources.
Arturo Krueger, Marvell's lead outside director, said, "The Board would like to thank Sehat and Weili for their enormous contributions and service since they founded Marvell in 1995. Marvell has revolutionized the world through its innovative technology and breakthrough designs in the semiconductor industry. However, the Board believes that the time has come to move in a new leadership direction. The Company's highest priority is to leverage Marvell's strong core business and technology to drive the next stage of product innovation and profitable growth. The Board has full confidence in the proven ability of Maya and Pantelis, together with the other members of the Interim Office of the Chief Executive and all of Marvell's employees, to continue providing world-class research and development and customer support during this time of transition. We look forward to demonstrating our continuing commitment to excellence in our products and service, as well as to creating value for our shareholders."
On February 22, 2016, the Audit Committee approved the engagement of Deloitte & Touche LLP as the Company's new independent public accounting firm. On March 1, 2016, the Company reported the results of the Audit Committee's independent investigation of certain accounting and internal control matters. With these two key matters completed, the Company is working diligently to complete the preparation and filing of its Annual Report on Form 10-K for fiscal 2016 and its Quarterly Reports on Form 10-Q for the second and third quarters of fiscal 2016 as soon as practicable. As previously announced, a search for a permanent Chief Financial Officer and additional independent board members is underway with the assistance of an international executive search firm.
Looking at today's reaction, it looks like the market is taking this as good news.
MRVL Daily Chart 4/5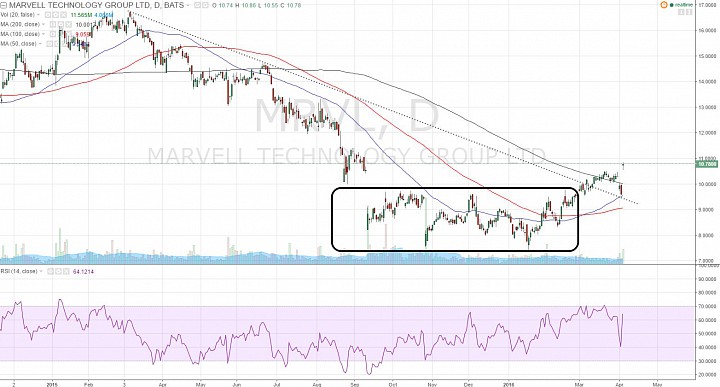 (click to enlarge)
From a technical perspective,
1) today's rally confirms a multi-month price bottom and a bullish breakout from a falling trendline.
2) Price is also now above the 200-, 100-, and 50-day simple moving averages. 
3) The RSI has tagged 70 and is held above 40, suggesting the development of bullish momentum. 
The daily chart looks like a buy to me with 12 as a conservative target and 13 as a slightly more aggressive but still viable target in the medium-term (looking down a few weeks or couple of months. I am not very convinced of a long-term buy, but the short to medium-term time horizon looks ripe for at least a 15-20% from the 10.50 area.
On the other hand, a break below 9.50 could kill the bullish drive, and a break below 9.00 could open up a bearish continuation scenario.