Fitbit, Inc. FIT reported third-quarter 2017 adjusted loss of 1 cent per share, which was narrower than the Zacks Consensus Estimate of a loss of 3 cents. The top line was also better than our expectation.
On the call, management appeared satisfied with the pace of execution of its transition plan. In the quarter, Fitbit sold 3.6 million devices, up 7% sequentially. Repeat purchases contributed 42% to activations. New products launched in the last 12 months, namely Fitbit Alta HR, and Fitbit Ionic, contributed 32% to revenues.
Also, the average selling price increased 4% sequentially and 12% year over year to $104.72 per device.
During the quarter, the company launched its first smartwatch, Ionic, a powerful, health-centric wearable. Ionic is a cheaper alternative to the Apple AAPL Watch Series 3. Management said that the launch of Ionic marks the best reception of any Fitbit product within the first month of sales and carries a rating of 4.2 stars. We believe this new product, which focuses on health and wellness, should continue to help the company to drive revenues in the near term.
We, however, note that Fitbit's growth has been hampered by the popularity of smartwatches in the fitness wearable category, influx of new wearables, increasing competition from Apple (AAPL), lack of upgrades among existing users and lackluster growth in the Asia Pacific region.
The impact of these headwinds has been significant on the stock, which significantly underperformed the industry over one year. While the industry has gained 21.4%, the stock has lost 15.3%.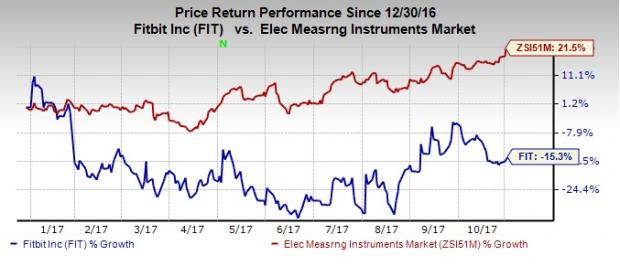 Let's check out the numbers in detail.
Revenues
Fitbit reported revenues of $393.0 million, which were down 22.1% year over year but up 11.1% on a sequential basis. The top line was within management's guidance of $380 million to $400 million and above the consensus mark of $391 million.
Top-line growth was driven by strong demand for the company's new products. Fitbit Charge 2 remained the top-selling connected health and fitness tracker in the United States. Also, strength in almost all regions led to the sequential increase in revenues.
Geographically, revenues from the United States accounted for 62% of third-quarter revenues, EMEA brought in 23%, Americas excluding the United States contributed 6% and the remaining 9% came from Asia Pacific.
On a sequential basis, every region increased save EMEA, which was down 18.4%. However, on a year-over-year basis, EMEA increased 7.8%, while all the other regions decreased.
Margins and Net Income
Non GAAP gross profit for the third quarter was $177.5 million. Gross margin was 45.2%, down 290 bps year over year but up 220 bps sequentially.
Gross margin was negatively impacted by a change in warranty in some countries and a change in replacement policy for legacy device.
Pro-forma net loss was $2.8 million or loss per share of 1 cent against net income of $45.7 million or earnings per share of 19 cents in the year-ago period.
Balance Sheet and Cash Flow
In the third quarter, cash and cash equivalents was $280.7 million compared with $318.7 million in the second quarter.
Accounts receivables were $261.0 million compared with $216.3 million in the previous quarter. Inventories were $138.8 million compared with $141.5 million in the previous quarter.
Guidance
For the fourth quarter of 2017, Fitbit expects revenues in the range of $570 million to $600 million. The Zacks Consensus Estimate for the upcoming quarter is pegged at $585.7 million. The company expects non-GAAP loss per share of 3 cents to a profit of 1 cent. The Zacks Consensus Estimate is pegged at a loss of 3 cents per share. It expects the non-GAAP tax rate to be approximately 44%.
For full-year 2017, Fitbit expects revenues in the range of $1.615-$1.645 billion and non-GAAP loss per share in the range of 27-23 cents. The Zacks Consensus Estimate for revenues is pegged at $1.63 billion and loss per share at 30 cents per share.
Fitbit, Inc. Price, Consensus and EPS Surprise
Fitbit, Inc. Price, Consensus and EPS Surprise | Fitbit, Inc. Quote
Zacks Rank and Stocks to Consider
Fitbit currently has a Zacks Rank #2 (Buy). A few other stocks looking up in the broader technology sector are NVIDIA Corporation NVDA and SMART Global Holdings, Inc. SGH, each sporting a Zacks Rank #1 (Strong Buy). You can seethe complete list of today's Zacks #1 Rank stocks here.
Long-term earnings per share growth rate for NVIDIA Corporation and SMART Global are projected at 11.2% and 15.0%, respectively.
Zacks' Best Private Investment Ideas
While we are happy to share many articles like this on the website, our best recommendations and most in-depth research are not available to the public.
Starting today, for the next month, you can follow all Zacks' private buys and sells in real time. Our experts cover all kinds of trades… from value to momentum . . . from stocks under $10 to ETF and option moves . . . from stocks that corporate insiders are buying up to companies that are about to report positive earnings surprises. You can even look inside exclusive portfolios that are normally closed to new investors.
Click here for Zacks' private trades >>
Want the latest recommendations from Zacks Investment Research? Today, you can download 7 Best Stocks for the Next 30 Days.
Click to get this free report
Apple Inc. (AAPL): Free Stock Analysis Report
Fitbit, Inc. (FIT): Free Stock Analysis Report
NVIDIA Corporation (NVDA): Free Stock Analysis Report
SMART Global Holdings, Inc. (SGH): Free Stock Analysis Report
To read this article on Zacks.com click here.
Zacks Investment Research