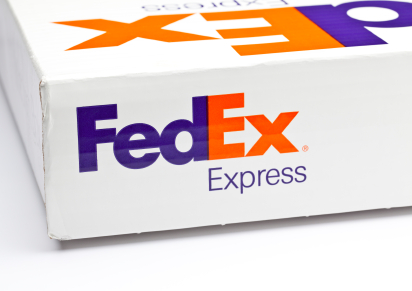 FedEx shares ( NASDAQ : FDX)  dipped slightly in premarket trading Wednesday after the shipping giant's report of better-than-expected third-quarter profits was offset by a tighter earnings outlook.
The Memphis-based company's shares were down just under 1% at $174.15 before U.S. financial markets opened Wednesday.
FedEx reported the company earned $580 million in net income, or $2.01 per share, for the quarter that ended Feb. 28.
The results, helped by lower fuel costs and increased shipping volume, were up from $378 million and $1.23 per share for the same period last year, FedEx said. That topped the $1.88 per share forecast of financial analysts surveyed by FactSet.
However, FedEx also reported third-quarter revenue of $11.7 billion, falling short of the $11.799 billion expected in the FactSet survey of analysts.
FedEx also projected earnings per share of $8.80 to $8.95 for the company's full 2015 fiscal year. That was narrower than the $8.50 to $9 per share estimate that FedEx previously forecast. It also fell below the $8.97 expected in the FactSet survey of analysts.
Overall operating results improved due to increases in volume and base yield growth in all three of the company's transportation segments, FedEx said. A lower year-over-year weather impact, reduced pension expenses and a net benefit from fuel costs also boosted the results, the company reported.
However, third-quarter revenue for the company's FedEx Express segment was essentially flat, as lower fuel surcharges and unfavorable currency exchange rates more than offset volume and base yield growth, the company said.
"We expect continued revenue and earnings growth this year, driven by ongoing improvements in all of our transportation segments," said Alan Graf, FedEx's executive vice president and chief financial officer. "Variable incentive compensation accruals will continue to increase as our financial performance improves, and we expect to deliver record fourth quarter and fiscal year.
Published by Sonal