As largely expected, following Friday's unexpected rate cut by the PBOC (which may have been mostly driven by 5th CCP Plenum considerations), and today's drop in the onshore Yuan which traded down 0.13% vs the Dollar to 6.3554, China's stocks opened solidly in the green, led by construction names, with recently troubled Vanke shares jumping 7.4% in early trading, the most since July 10, to their highest level since Aug. 11. Peers such as Longfor, CR Land and China Overseas Land, also jumped by 6.9%, 1.9% and 1.4%, respectively.
China's indices were solidly green in early trading, with the Shanghai Composite +0.9%, Shenzhen Comp +0.8%, and CSI 300 +1.3%.
Hong Kong was likewise euphoric, with several key names standing out:
Tencent +1.3%; biggest contribution to HSI's gains
Banks such as Agricultural Bank +0.6%, ICBC +0.8%, and Bank of China +0.8% were all stronger after China removed the deposit rate ceiling
Citic Securities +2.3%; seeks bond payment from Baoding Tianwei
China Reinsurance +2.2% on its debut
Elsewhere in the Asian region, early sentiment was also a broad, if somewhat tame, bullishness.
MSCI AP Index +0.7% to 136.71; health care, consumer discretionary rise most
Nikkei 225 +1.2%; Topix +1.1%; yen +0.3% to 121.17/USD
Hang Seng Index +0.7%, HSCI +0.7%, HSCEI +1.1%
Shanghai Composite +0.9%,
ASX 200 +0.2%
Kospi +0.3%
Straits Times Index +1.0%
KLCI -0.2%
TWSE +0.7%
Philippines Composite +1.6%
Australian dollar +0.4% to $0.7242
NZ dollar +0.1% to $0.6760
Dollar Index -0.1% to 96.98
Asia dollar index +0.1% to 108.57
As for China's key index, the Shanghai Composite, it is up over 1%, or 40 points in early, to just under 3,500 - the highest in 2 months, a gain which however is well below Friday's pre-rate cut gain...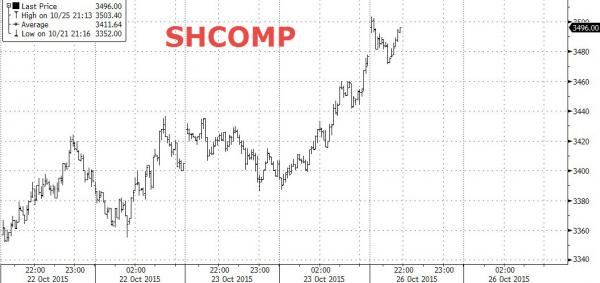 ... and if prior rate cut history is any indication, not to mention the weak reaction by commodities on Friday (continuing into today, where WTI turned green by the smallest of margins just seconds ago...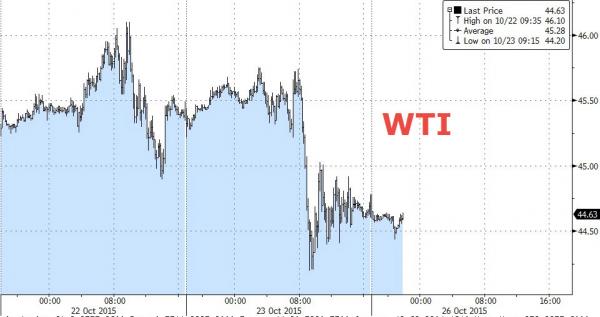 ...  we would not be surprised to see China's stocks sliding back into the red very shortly as "sell the news" concerns return, and as the increasingly more addicted "markets" demand even more liquidity from central banks just to stay unchanged, let alone rise to new all time highs.